As the celebrations of Taiwan's National Day on October 10 approached, the island's 23 million inhabitants suffered more than a few distractions: on consecutive days over the first weekend of the month, a record 149 People's Liberation Army warplanes roared into Taiwan's Air Defence Identification Zone: 38 planes on October 1, the National Day of the People's Republic, 39 the following day and 16 on October 3.
On October 4, following a US statement that called on China to cease its provocations, Beijing stepped up the incursion to 56, including 36 fighter jets, 12 bombers, two transport and two surveillance aircraft.
Nerves were so frayed on Taiwan that the sound of the Taiwanese air force rehearsing its own National Day fly past was reported to have triggered some alarm.
Each incursion into Taiwan's ADIZ forces Taiwan's pilots to scramble and sets nerves on edge: China fighters are probing Taiwan's defences to gather intelligence and deliver information back to China's air force on the possible outcome of a military assault on what Beijing calls a renegade province, and its inhabitants proudly view as the only example of a functioning democracy in the Chinese world.
PLA war-plane incursions have become a daily event this year and satellite images confirm both the expansion of China's Eastern Theatre Command's airbase in Zhejiang province and the stationing of the PLA's most advanced fighter – the J-16D, capable of jamming enemy radar – in another Eastern Command base in Jiangxi province, close to Taiwan.
The tensions, Taiwan's defence minister, Chiu Kuo-cheng said, were the worst in 40 years and he publicly warned fellow legislators that China would be militarily capable of invading Taiwan within five years. While that might be technically true, his statement can also be read in the context of his efforts to pass a record US$16.8billion defence package through Taiwan's parliament. There was also a less noticed acknowledgement that Taiwan was itself developing a medium-range surface-to-surface missile, the Yun Feng (Cloud Peak), that could strike land-based targets in China.
Although the Yun Feng has been under development for some years, it is only now that the government has acknowledged its existence as part of Taiwan's preparations for asymmetric defence. The risk is that Beijing could use the Yun Feng as an excuse to make the implausible claim that Taiwan was actively preparing an attack on its giant neighbour. Concerns have not been assauged by reports that China itself has tested a nuclear-capable glider, travelling at five times the speed of sound and therefore capable of evading most ballistic missile defence systems.
Worrying though this all is, it does not yet constitute evidence that a Chinese assault on Taiwan is imminent: a more likely scenario is that these incursions are elements in a suite of pressures that China has long applied to Taiwan.
Taiwan's fate is of global concern not least because the island is a key supplier of advanced semiconductors to global markets, but Taiwan's economy remains heavily dependent on China. Intimidation short of military action can include cyber warfare, disinformation, international isolation, economic coercion and election interference. (Beijing prefers to see the Kuomintang Party, its defeated adversary in the Chinese civil war, in power in Taiwan, over Tsai Ing-wen's indigenous DPP.)
But while harassment of Taiwan and nationalist propaganda play well to mainland sentiment, it would take a massive crisis in China for a military adventure, with all its unknown consequences and the risk of a long and bloody pacification, to look like a good option.
Banging the drum to cheer up the folks at home and rattle nerves outside is another matter. It may have mixed diplomatic results in the neighbourhood – causing Japan, Australia, India and Vietnam to shift uneasily and wonder who might be next – but it fits into Xi Jinping's domestic agenda. Nationalism, after all, has always been a key component of what the regime calls socialism with Chinese characteristics: Mao Zedong was a nationalist, even if the targets of his externally directed hostility shifted over time. But since the Chinese Communist Party's suppression of the democracy movement in 1989, it has become the main message: the party's national narrative has drawn heavily on the story of the Qing empire's weakness in the face of expanding Western powers, the grievances associated with the humiliations of that period and the implied – and increasingly explicit – revanchist dream. The memories are kept alive with an annual Day of National Humiliation, celebrated on January 3, a rash of museums and a highly directed school curriculum.
The narrative of national humiliation allows the party to justify its actions in the name of promoting China's national interest. That those coincide exactly with the party's own interests is another unchallengeable assertion.
The regime justifies the scale of the repression in Xinjiang, for example, by the claim that religious extremism inspires terrorism: the definition of extremism reportedly can include a refusal to drink alcohol or eat pork, choosing to wear a beard or simply having relatives abroad.
The regime disputes the nature of the camps, now characterising them as vocational centres, and has produced a steady stream of videos and articles that affect to show happy dancing Uighurs, literally singing the praises of the party.
MORE: China has raised the language barrier again.
MORE: The days of panda diplomacy have been ended by wolf warriors.
This does little to allay international concerns about what appear to be egregious human rights abuses, although there is a notable silence on the subject from the Organisation of Islamic Cooperation, and prominent Muslim powers such as Saudi Arabia have explicitly given China a pass.
The topic has spilled over, however, into trade issues, facing western brands with difficult choices about how to guarantee they have no forced labour in their supply chains for goods as varied as tomatoes, cotton and the silicon needed for computer chips.
At home, consumers take swift revenge on any international brand that declares a policy of no sourcing from Xinjiang. Otherwise there is little visible awareness or concern over a what is a radical break in previous iterations of China's approach to "national minorities" and now appears to aim at nothing less than the elimination of cultures and languages that cannot be homogenised into a Han Chinese template.
Criticism of Xinjiang policy would not last long on Chinese social media, but online support for the government approach is often buttressed with anecdotes that characterise Uighurs as petty thieves. Similar tropes can be found on the subject of Hong Kong, where protests have been characterised as violent, and Hong Kong's claims for an electoral system that reflects popular will are derided as indulgent.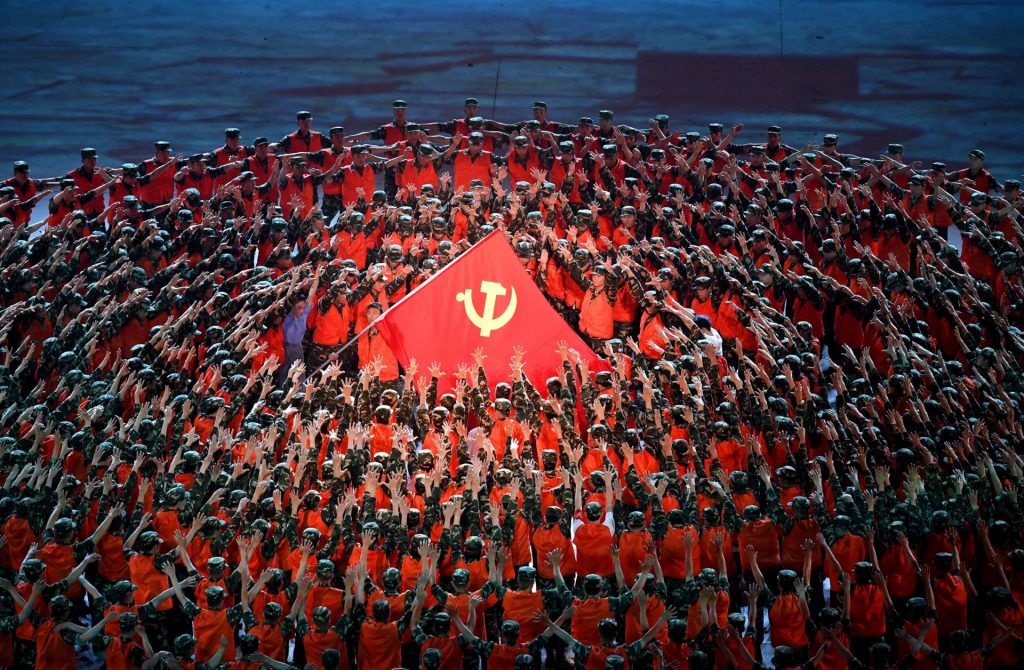 But if Taiwan, Tibet and Xinjiang have long been fitted into the national security narrative, since Xi Jinping came to power in 2012, the range of the party's internal targets has expanded to include lawyers, public intellectuals, academics, independent-minded entrepreneurs and civil society actors.
Today, China's ultra-nationalist bloggers, sheltering under the expansive wings of the party's nationalist narrative, target feminists, highly paid television celebrities, "effeminate" entertainers and advocates of action on climate change.
If China has problems, according to this increasingly belligerent sector, they can be attributed to hostile foreign forces and those inside China who collaborate with them to damage national security. Their crimes can be defined as embracing western liberal values that, no doubt amongst other sins, are charged with undermining China's masculinity.
In recent years, a steady stream of blockbuster movies has sought to shore up national masculinity with hell and glory stories of military prowess. The most recent, The Battle at Lake Changjin, was released to over China's national holiday on October 1, and celebrates a Korean War victory of Chinese "volunteers" against US forces. It is the most expensive film ever made in China, and features lines such as "How many Americans do I have to kill to be a hero?" (The answer is 20). Some 50,000 Chinese conscripts died in the Korean War, 30,000 of them of cold. On screen, at least, even hypothermia is heroic.
Xi Jinping, who has anointed himself as leader of China in perpetuity, presents a confident front and judging from The Battle at Lake Changjin's record box-office takings the circus side of the governing formula is going well.
The bread side, however, is looking rather less certain. After nearly four decades of breakneck growth and rising living standards, China is facing a number of troubles that may not be remedied either by exhortations to patriotism or by fading promises of ever-growing prosperity.
As the economic times get tougher, the challenge for Xi, who plans to skip COP26, is to keep a grip on the proposition that the party is always right – a proposition much invoked in the centenary celebrations in July – and that it has the best interests of the people at heart.
The Covid-19 pandemic – which official Chinese media now claim originated in a consignment of frozen lobsters imported to Wuhan from Maine, USA – has accelerated a slow-burning crisis that has many components: an ageing population, compounded by the consequences of decades of severe restrictions on births that the party is now struggling ineffectively to reverse; an imbalance of wealth that matches that of the United States, and which inhibits the consumer spending that the party is desperate to encourage; decades of neglect of rural populations that have left a substantial sector under educated, undernourished and ill-equipped to fill higher-value jobs in an economy that the government is trying to upgrade; a historic over-dependence on construction as the primary economic driver, leaving a legacy of unoccupied housing and unpayable debt; and now, an energy crisis that threatens to knock China's pandemic recovery off course. It is more than enough to fill the working day, without invading Taiwan.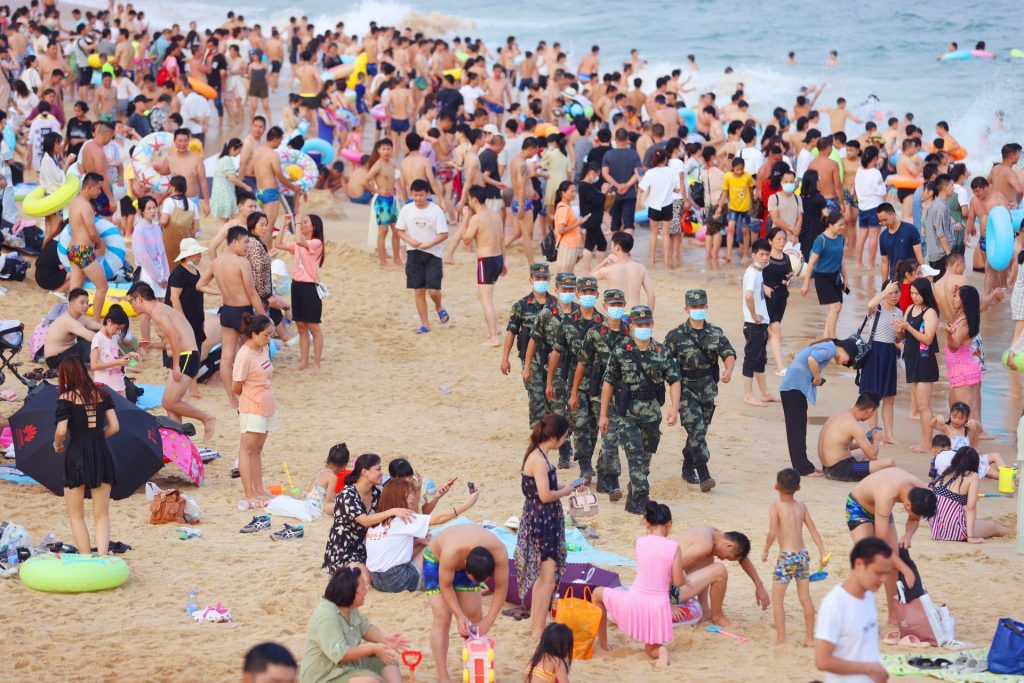 China is not alone in facing more challenging times, but there is a systemic quality to China's difficulties that can threaten the claim that the party holds the key to a system of government not just equal to that of Western democracies, but superior.
The party's historic mission, despite China's vast inequalities in wealth, is socialism, but as the middle-income trap threatens and growth-related opportunities shrink, delivering on that promise will require a different approach.
It should not come as a surprise, therefore, that the party has encouraged attacks on prominent targets, such as actresses who have not paid their taxes, or multibillionaire tech entrepreneurs who now find themselves obliged to announce charitable programmes. Both moves are represented as balancing the books in favour of the less well off.
The same is said of the overnight cancellation of China's vast private tutoring sector that thrived on trying to squeeze middle-class children through the very narrow entrance to elite universities; or the clamp down on the online gaming industry, blamed for distracting China's youth from the properly patriotic business of building the nation.
Many of these moves play well with the public, and where they do not, discretion is strongly advised: murmuring against the party brings consequences in an increasingly sophisticated, digitally enabled surveillance state. This is visible at its most extreme on China's periphery – in Xinjiang and Tibet – but the essential elements of saturation camera coverage, facial recognition, digital monitoring and the capacity to track everything from social circles to physical movements and spending are in place nationwide. The government claims to be loved, but its security system speaks to an unmistakable perception of threat and raises the question: what is it that party fears?
Any substantial threat on Xi Jinping's grip on power is unlikely to come from China's highly surveilled streets but from inside the party itself – the locus of savage power struggles since the founding of the organisation in 1921. Next year, the CCP will hold its 20th Party Congress. This quinquennial event, under the system that Deng Xiaoping put in place, would signal the end of Xi Jinping's 10-year term and his successor – or at least a short list of options – would be visible.
That system provided the People's Republic of China with the only peaceful transfer of power in its painfully contested history. But Xi Jinping has changed the rules to allow himself to stay in power, in theory, for life, and, once again, the question of succession is fraught with risk and uncertainty.
Xi's command of the party and country has been bought at the cost of continuing purges that have covered all sectors of the party and government, including, notably, the security services on which China's high-surveillance, low-tolerance society depends.
Among the 1.34 million officials targeted by Xi's campaigns – characterised as "anti-corruption" purges, – are former members of China's supreme body, the Standing Committee of the Politburo and sitting members of the politburo itself, 35 members of the party's Central Committee, the former heads of the security services and the military commission, notable entrepreneurs, dozens of army generals and thousands officials at every level of government.
As recently as August last year, Xi launched an extensive purge of the Central Political and Legal Commission which runs China's police and judicial services, a purge aimed at "making deep cuts into the bones to take out the poison".
Nearly 180,000 officials and more than 1,200 heads of department were fingered, and in September this year the party claimed to have uncovered a conspiracy against the party within Jiangsu province's police.
While endemic corruption remains a given in the CCP, the scale of the dismissals, forced retirements, executions and imprisonments is also a sign of the factional internal power struggles that plague the party. That they continue to this day, despite a decade of continual purges, can be read either as a signal of mounting paranoia in the leadership or of serious discontent within the party. Neither would be reassuring.
In late August, a blogger published a post in which he announced a second Cultural Revolution that would return the party to its original socialist intentions. It was swiftly republished by the party's news agency and other official outlets
Against this background of political uncertainty, the slowmotion bankruptcy of Evergrande, the world's biggest property company, under the weight of debts that represent 2% of China's annual GDP, is an unwelcome sign that the engine of property development, which has driven China's economic growth for more than four decades, has run out of fuel. To add to the headache of protecting customers who have paid for apartments that Evergrande will now not build is the larger unanswered question of what now will support the budgets of China's local and provincial governments?
It is one of a series of economic questions to which the party has yet to find an answer, but the political management of these challenges seems to be set: a return to the Maoist playbook. In late August, in one of several indicators of the trend, a blogger named Li Guangman published a WeChat post entitled "everyone can feel that a series of profound changes is happening", in which he announced a second Cultural Revolution. The recent moves against social liberals and celebrities, to Li Guangman are harbingers of "profound changes" that would return the party to its original socialist intentions.
The post might have languished in relative obscurity, but for the fact that it was swiftly republished by the party's news agency, Xinhua, as well as other official outlets, including the People's Daily and CCTV.
There many be unease in China at the direction in which Xi is travelling, but there is no longer any doubt about the cost of debate.