For more than 100 years Poland did not exist. In the words of historian Norman Davies the country was "just an idea – a memory from the past or a hope for the future."

What had been a powerful kingdom had declined by the 18th century and become easy prey for her acquisitive neighbours Prussia, Austria and Russia, who divided the country between them.

The partitioning took place between 1772 and 1797 and although the Poles fought back, they were no match for the three great powers. After rebellions in 1830 and in 1863 were swiftly crushed, their leaders were executed or deported, their property seized, and the Roman Catholic Church and the monasteries suppressed. In the Russian territory, they were forced to speak the language of their oppressors and every dissenting voice was censored.

There was tacit support from other European countries and a rallying call from Alfred, Lord Tennyson, who wrote in a sonnet:

Arise, brave Poles, the boldest of the bold; Break through your iron shackles – fling them far.

But it was obvious that using arms to break through the "iron shackles" of occupation was futile. Instead, the Poles turned to art to subvert the regimes in a movement known as Mloda Polska – Young Poland. The purpose was to sustain their dream of freedom and the hope of independence, by summoning up their history in painting and architecture, and by reviving the country's proud traditions of folk art.
---
It was in the city of Krakow, the historical seat of kings in the southern region of Galicia, that they found their voice – albeit cautiously – because the Austrian regime was more liberal than its Russian or Prussian counterparts.

The result is celebrated in Young Poland: An Arts and Crafts Movement (1890-1918) at the William Morris Gallery, London. The exhibition contains an array of 150 paintings, architecture and crafts, most of which have never left Poland before. They are comparable to anything being created in the rest of Europe at the time and, fittingly, demonstrate the cultural and philosophical affinity with the arts and crafts movement in this country, championed by William Morris and John Ruskin. Like Morris and co, the Polish embraced the concept that art should express moral principles and bring beauty to everyday objects and everyday lives.

One of the most influential in the Young Poland movement was the extraordinarily gifted Stanisław Wyspianski (1869-1907), an admirer of Morris, who combined writing plays and poetry with painting and making furniture.

His pastel Chocholy I (Straw men dancing in Planty Park), 1898-99, says much about the use of symbolism to keep the spirits of the nation alive. Set in the park which encircles Wawel Castle, home of the kings and itself a potent symbol of Polish nationalism, what appear to be strange, ghostly apparitions, almost human, turn out to be rose bushes wrapped in straw – as was the custom – to protect them against winter frosts. The plants will survive and flower again – so too will Poland. Yellow lamps flicker through the gloom, lighting the way to freedom.

One of Wyspianski's most spectacular contributions to the movement can be seen in the mediaeval Franciscan Church in Krakow. "I will necessarily produce miracles and wonders," he declared, and set about covering walls with roses, sunflowers and poppies as well as motifs of heraldic eagles and peacocks' eyes, which were associated with freedom and self-expression.

He filled the blue vaulted ceiling with stars and used an entire window for one of his most striking endeavours, God the Creator (1904), almost liquid in the way the blazing colours flow from the tip of God's raised hand to the Earth below.

Simpler, but just as moving is the Madonna with Child (1895). He used the imagery of rural life by painting lilies, symbols of purity, to frame his Madonna, who is wearing a scarlet cloak in the manner of a peasant girl and stands before a canopy of wild flowers. As a student Wyspianski was greatly influenced by the painter Jan Matejko (1838-93) whose monumental canvases pay patriotic tribute to glorious moments in Polish history,

The tumultuous Kósciuszko at Raclawice (1888) salutes an epic battle in 1794 in which a daring charge by scythe-wielding peasants defeated the Russians. Although they are euphoric in the moment of victory, there is also a sense of exhaustion and fatalism, as if they knew their moment of glory would turn to dust – as it did. The Russians recovered and crushed the rebels.
---
The largest painting in the Polish National Museum's collection – Matejko's Battle of Grunwald (1878), which measures more than four metres in height and nearly 10 in width – recalls the rout of the Teutonic knights in 1410. The painting has a huge significance for Poland and its culture, so much so that during World War II, the Nazis offered a reward of 10m marks (about £4m) for information leading to the location of the canvas. They never found it.

Scenes of war – and famous victories – are a direct way of pulling at a nation's patriotic heartstrings but the Young Poland movement used their talents to emphasise the value of art itself as a means to inspire the people.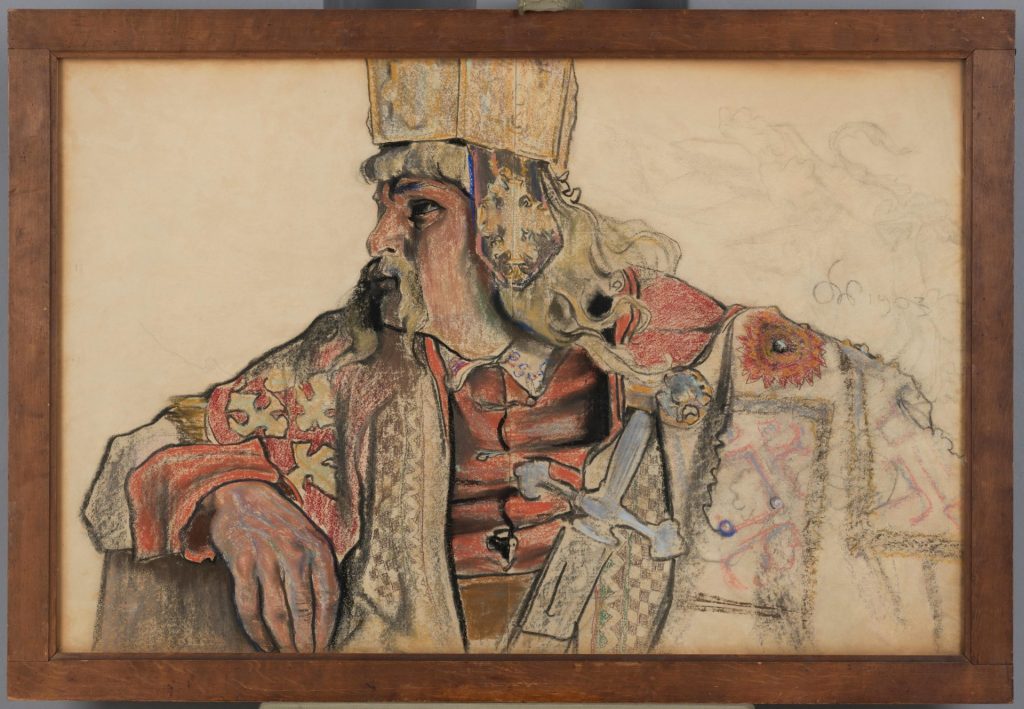 Józef Mehoffer (1869-1946) painted the vast Nature and Art (1901) in which a personification of Art wearing an elaborate – and traditional – gown is directing the artist, here a naked boy, to follow the ideal life of the simple country folk, represented by a peasant girl brandishing sunflowers. Storks, emblematic of renewal and motherhood, fly above them. It's a beautiful, peaceful image that has echoes in paintings such as Vlastimil Hofmann's Madonna with a Starling (1909), in which the Madonna holds two children while explaining the significance of the bird she is holding – a symbol of Christ's Passion.

Jan Rembowski's Highlanders Marching (1919-10) extols the men of the mountains, the backbone of the country, in traditional costumes, eyes front, marching to freedom.

A tender image of a girl pursuing the most time-honoured of activities in At Bobbin Lacemaking (Legend), by Karol Kłosowski (1882-1971), is given a quasi-religious quality by the halo of lace that surrounds her. Kłosowski wrote that lacemaking, "instils the cult of real beauty and ethics within a nation."

His own lacework is fabulously delicate but surpassed by the exquisite designs of his paper cutting patterns, which are adorned with spiders, cockerels, eagles and caterpillars. He followed the style employed by peasants for centuries: they folded coloured paper in several ways and cut them into patterns with shears to spruce up their humble cottages.

In the 1890s Kłosowski, who used to draw with sticks of coal because he was so poor, became a follower of architect Stanisław Witkiewicz, who had founded an arts society in the Galician village of Zakopane with the goal of undermining foreign rule by creating a national style.

He insisted that all arts and all crafts were equal, whether it be in architecture, furniture-making or designing soaring stained glass windows, chairs or a curtain.
---
Both Kłosowski and Witkiewicz built distinctive homes in the Zakopane style, using boulders for the foundations, tiled and stone floors, oak or ash for the walls and ceilings, lattice work around the windows, sloping shingle roofs and swooping eaves.

They incorporated vernacular imagery with carvings on the doors and frames, and chairs and cabinet decorated with radiant suns, winding vines and flower carvings.

Kłosowski also joined in the revival of textiles to make kilims, adorned with bright geometric patterns and flowers and birds. One of his most appealing, Highlander Highwaymen, depicts two men of the mountains warming themselves before a blazing campfire.

In Witkiewicz's home, known as the House Under the Firs, of which there is a model in the exhibition, he ensured that everything, down to the slightest detail however ordinary and everyday, matched in style whether it was curtains covered in roses and lilies or a stove with cream-coloured tiles and undulating flowers. He even designed a delicate china coffee with handles that are curiously curved upward – a quietly subversive nod to the shepherds' crooks used by those stout men of the mountains, who remained steadfastly defiant in the face of foreign masters.

Witkiewicz claimed "that what Ruskin dreamed of and Morris attempted to realise really happened here (in Zakopane). The poor and rich came together in art."

At the end of the First World War in 1918, Poland was given back about 60% of its land, and examples from Krakow Workshops, which flourished in the 1920s, reflect a lightening of the national mood by featuring metal-working, bookbinding and the creation of pretty little woven toys of folk figures, not to mention baubles for Christmas trees.

Freedom lasted for only 21 years until the "iron shackles" were once again imposed. First, the Nazis marched in, only for Poland to be "liberated" by Russia in 1945 and subjected to Soviet domination until the break-up of the USSR in 1989.

What the exhibition tells us is that borders come and go; governments rise and fall but arts and crafty artists can ensure that the people do not have to allow their identity to be subsumed by hostile forces.

"Let us surround ourselves with our own beauty," exhorted Kłosowski. He might also have added that beauty can be used as a weapon. After all, a movement that can make a coffee cup into a token of subversion can survive anything. And they did.
Young Poland: An Arts and Crafts Movement (1890-1918) Until January 30, 2022. William Morris Gallery, Walthamstow. Admission free.