It might seem like the latest fad for the globe's elite is space travel but the true indicator of out-of-this-world wealth remains the superyacht.
These behemoths of the sea are still the most glaring and glittering symbols of ostentation and affluence it is possible to buy – and they don't even have to be phallic-shaped to reinforce the point.
But for those who will never set foot aboard one, what fascinates and intrigues about these vessels is not the just the luxury features they boast – from basketball courts and infinity pools to outdoor cinemas and onboard mini-submarines – but the economics that lie behind them: Who owns them? What do they cost to run? And what are they actually used for?
To find out, it helps to specify what a superyacht actually is. It might sound a vague term but the definition is surprisingly specific: a superyacht is classified as a luxury boat more than 30 metres in length.
According to Super Yacht Times, there are currently 5,245 vessels in this category worldwide, with another 502 under construction. Around 180 new vessels are launched, on average, each year.
So far, so clear. But beyond those basic figures the global fleet is as diverse as it is exclusive: from family-friendly 100 footers built by production shipbuilders like Princess Yachts in the UK to enormous 100+ metre custom vessels packed with mind-boggling facilities from industry giants such as Lürssen in Germany. These are the craft that attract the most attention and get the most column inches for their owners.
When it comes to the owners, the largest proportion are from the US. Of superyachts over 40 metres in length, 23% are in American hands. Russian owners come in second, with 9% of the fleet, followed by the Greeks and the British (both 6%) and Italians (5%). The remaining top 10 nationalities of yacht owners are from Turkey, Germany, United Arab Emirates, Saudi Arabia and France.
Interestingly, the craze for superyachts does not seem to extend to China's billionaires, although there are signs that might be slowly changing, with interest picking up and international hubs such as Hong Kong showing a growing demand.
The cost of owning a yacht is obviously its most prohibitive factor and, wherever the owner hails from, it goes without saying that ownership is reserved to the world's top 0.1%. From young Silicon Valley tech experts to veteran titans of industry, from self-made entrepreneurs to members of royalty, wealth is just about all that connects yacht owners – and that is reflected in the multitude of ways yachts are used.
While some vessels may spend most of the year moored in port awaiting the two-week annual holiday of its owner, others are frequently used as a business asset, hosting meetings, conferences, and events throughout the year.
Those owners retired from a successful corporate life may choose to spend several months a year on board, enjoying the fruits of their labour cruising in yachting hotspots around the world, while others still may opt for frequent use in their local waters.
In terms of where they are found, there are two obvious global clusters: the Caribbean and the Mediterranean. But other areas are becoming popular with the superyacht crowd too, with more off-the-beaten-track cruising destinations like Norway, Antarctica and Indonesia gaining traction as worldwide infrastructure continues to develop.
And the vessels are a not infrequent sight off the UK coast. Among those spotted in British waters this summer are Russian businessman Alexander Abramov's Triple Seven (with Tom Cruise on board), and Ragnar, which is understood to be owned by former KGB agent Russian millionaire Vladimir Strzhalkovsky.
As for what is actually on board, with luxury accommodation, professional crews, private chefs, plenty of interior and exterior living spaces, full digital connectivity and autonomous capability, the vessels' very attraction is that they can cater to any lifestyle and usage that the owner desires.
Prices of purchasing a new superyacht vary wildly depending on a variety of factors: size and volume are perhaps obvious ones, but aspects such as the build pedigree of the yard, designer credentials, the level of custom features and technical specifications all make a significant difference in the final asking price.
For a modest new-build superyacht, owners can expect to pay upwards of £7.5 million. Looking at the higher end of the scale, the prices of new-build custom yachts have been known to soar into the hundreds of millions.
The title of 'most expensive' superyacht has been claimed by many vessels over the years. Roman Abramovich's 162-metre Eclipse is often cited as the holder, with an estimated value of £291m. But now more than a decade old, its value is depreciating and it Eclipse is being eclipsed by newer vessels.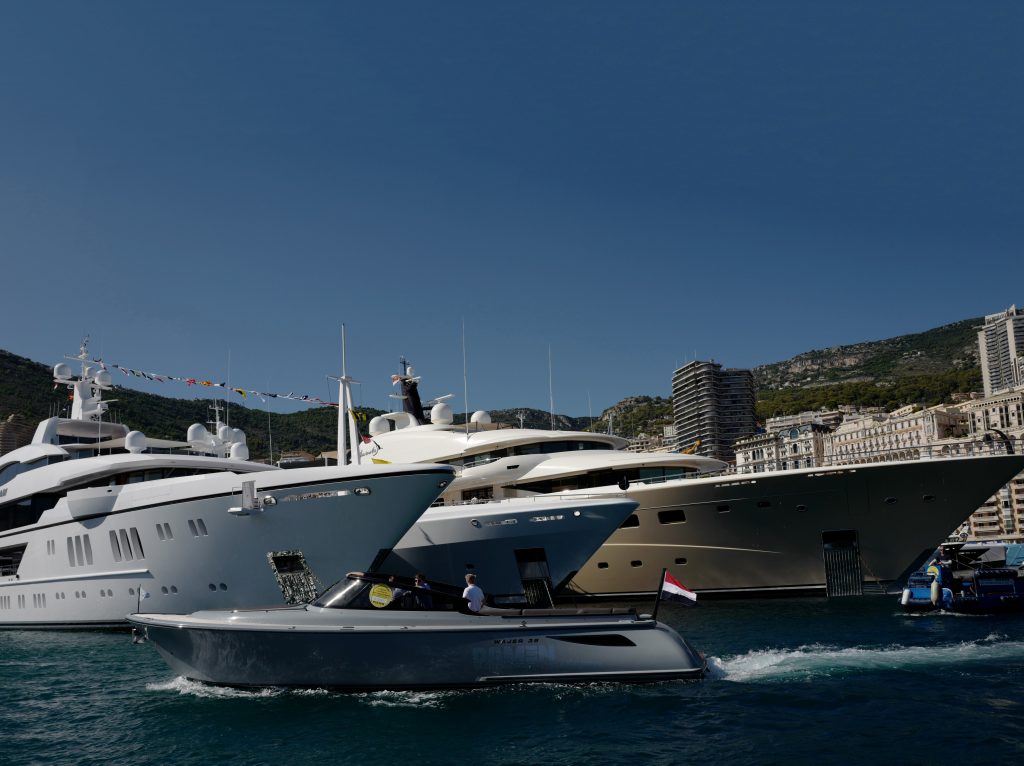 Jeff Bezos is said to have brought a new vessel, currently being built in a Dutch yard, for £350m. His first superyacht will also come with its own support yacht. Measuring around 50 metres and also currently under construction, the smaller yacht will feature a helicopter landing pad (since the the main yacht is unable to support one, due to its three sailing masts), crew and guest accommodation as well as more than enough room for every water toy one can imagine. 
However, if you are to believe the internet, neither vessel are anywhere close to being the most expensive superyacht. That title, according to widespread reports, belongs to a vessel called History Supreme, with a value of £3bn. Far smaller than Eclipse – only 30 metres in length – History Supreme is described as featuring 100,000kg of gold, platinum and jewels and a statue made from Tyrannosaurus Rex bones. In fact, the story is a widely-circulating hoax and no such vessel exists, a sign of the fascination and allure of these vessels – and particularly their price tags and features.
The purchase price, though, is only the start of the outlay for superyacht owners. After a three to four year build time comes delivery – and the operational costs. Taking into account a year-round live-aboard professional yacht crew, maintenance, fuel, berthing costs and more, conservative figures of £170,000 running costs have been cited for the smaller vessels in the class. But most owner's are looking at an additional few million pounds in annual expenses.
Still, the money will provide a longer-lasting thrill than a trip into space. Though a handful of yachts are written off as total losses each year due to major, but rare, incidents, in theory, a well-maintained yacht should stand the test of time.
Almost half of the superyacht fleet over 30 metres is now older than 15 years (2,529 out of 5,245), and many classic and heritage yachts date back to the early 20th century.
One of the most famous is the 1930s motor yacht Nahlin, built for the British heiress Lady Yule and later used by King Edward VIII and Wallis Simpson. The yacht was also owned by King Carol II of Romania and, after the monarchy's downfall, spent much of the rest of the 20th century gently rotting away as an asset of the then communist country's Ministry of Culture. She has since undergone a complete refit and is now owned by Sir James Dyson, who purchased her from fellow British businessman Sir Anthony Bamford.
Many superyacht owners will own a yacht for several years before moving on to a bigger and better vessel, or stepping away from ownership altogether. Most yachts can expect to see a substantial depreciation year on year, though pedigree yachts tend to hold their market value better.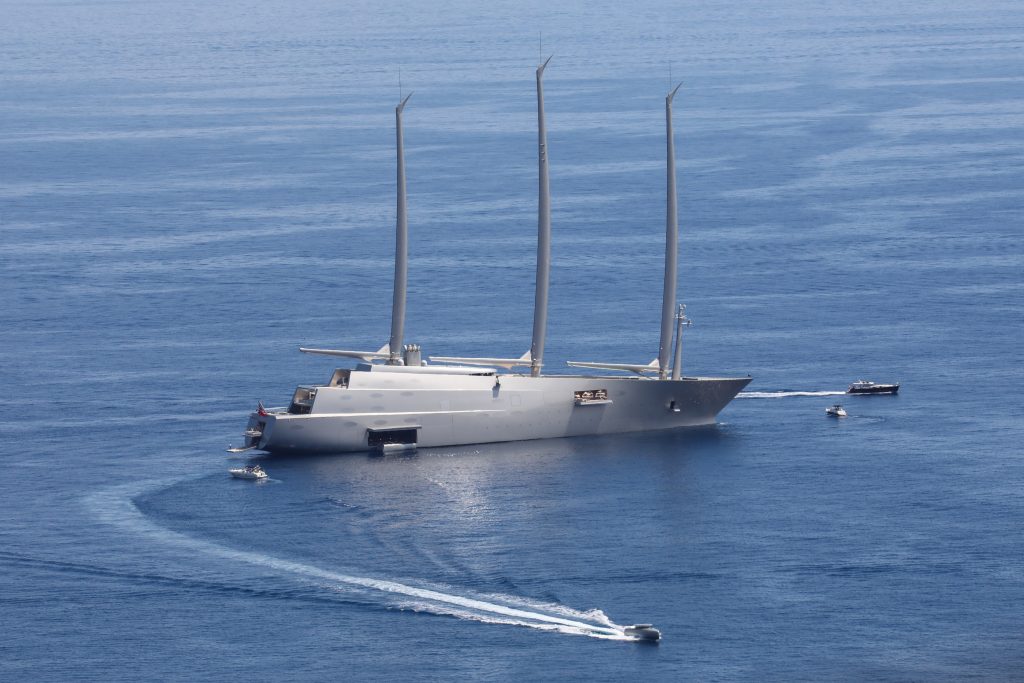 The second-hand yacht market is home to a huge range of options for those looking to own a luxury yacht without the eye-watering new build investment, or perhaps just without the long waiting time. Approximately 1,295 are currently available for sale – 25% of the total fleet.
Though the majority of used yacht sales are in the 30-30.99-metre range (accounting for more than 60% of 2020 yacht sales), some of the most significant used yacht sales of 2020 include the 67-metre motor yacht Aurora Borealis built in 2019, which sold for £68m, as well as the 73-metre motor yacht Hasna.
Sold at an asking price of £79m, Hasna was built by the renowned Dutch shipyard Feadship in 2017 and features accommodation for 12 guests and 21 crew, an eight-metre infinity pool, a 10 seat outdoor cinema and a fully equipped spa and gym.
While yacht owners may be few and far between, access to luxury yachting is not only reserved for those who can or, indeed, want to buy a yacht. The yacht charter market is filled with thousands of superyachts available to rent, with many superyacht owners offsetting the heavy costs of running a yacht by chartering it out for most of the year.
Chartering makes the costs a little more accessible. Depending on the yacht, the destination and the time of year, superyacht charter holidays can start from £15,000 per week for eight guests, excluding expenses.
As a general rule of thumb, the larger, the newer and the more exclusive the yacht, the bigger the price tag – and the price tags get big. A-list serial yacht charterers include Beyonce and Jay Z, who chartered the 107-metre Italian-built superyacht Lana in 2020. Accommodating a crew of 33 and complete with three tenders of 14, 9 and 7.2-metres, Lana is offered for charter at £1.5m per week.
Despite this income, those who own chartered yachts tend to be private individuals, rather than investment firms. Superyachts are many things, but tend not to be seen as good investments.
Not only do they cost a lot to operate and maintain but they lose their value over time. That said, their ownership can be opaque. The vessels are often bought by corporations, making it difficult to say for certain which yachts are owned by whom. Most tend, ultimately, to be in the hands of individuals, however.
Like the majority of luxury assets, there are always going to be specific financial incentives to purchasing a high-ticket item. And for those using a luxury yacht almost exclusively for business purposes, the potential gains are higher. But – even with a successful year-round charter operation – the vast majority of yacht owners do not make money from owning a yacht.
Regardless, the industry is growing. The world's best yacht brokerage firms note increased new and used yacht sales over the past 12 months, while the charter market is welcoming more new clients than ever before. This year alone has seen £1bn spent on superyachts.
It shows that the superyacht sector seems to have sailed through the pandemic strongly. The vessels' attraction, at a time of travel restrictions and lockdowns, is obvious. And there can't be many better ways to self-isolate than aboard one.
Industry analysts report that as well as increased sales, they have noted owners spending longer periods on board, and more demand for larger office facilities and a higher emphasis on vessels' communications systems, as the craft increasingly become work, as well as leisure, assets.
And of course, the mobility offered by a superyacht can be handy to cope with travel restrictions and avoid areas where they are most stringent. Earlier this summer, when Greece introduced more liberal Covid rules than other Mediterranean countries, it became a magnet for the superyacht crowd with ships reportedly owned by David Geffen, Abdullah al Futtaim, and Ernesto Bertarelli among almost 200 superyachts in Greek waters.
The cruise ship industry has had a less favourable time as a result of coronavirus, but according to some reports this has been to the gain of the superyacht sector, with out-of-work cruise staff said to have helped sustain the sector's growth. Indeed, there seems little to scuttle the superyacht any time soon, other than a zealous global tax revolution. Or, indeed, a global revolution.
The world's richest already have everything they need aboard, and everything they need to keep it safe. The security of the superyacht is one of its greatest attractions – it is striking how many of the most eye-catching (and expensive) features on some of the biggest vessels are security measures, designed to protect from paparazzi and pirates alike: Bullet-proof cabin windows; acoustic devices which direct high-pitched noise at invaders; sonar detection systems to track and identify any underwater approaches; anti-drone protection to neutralise threats from the air; cloaking systems, which throw up an impenetrable cloud of smoke; and even escape pods to flee a yacht under attack.
You might not need that sort of technology on your own rocket, but at least Jeff Bezos will be able to use his two ships more than once.
ADDED EXTRAS…
No superyacht is complete without its array of special features. Here are some of them…
Anti-drone systems
These can protect the privacy (and safety) of those on board by blocking signals from unauthorised drones which approach the vessels. Some have net canons to bring the devices down.
Martek Anti-Drone have developed the M.A.D.S (marine anti-drone system), which has the capacity to detect all devices within a 5km radius, providing owners with an accurate GPS positioning of the drone, and pilot. It also then offers the option to 'defeat' the drone if it is perceived as a threat.

Nemo lounge
Taking their name from Jules Verne's Captain Nemo – or possibly the Disney fish – these are observatories below the vessel's waterline that offer underwater views. Savannah, owned by Swedish-Canadian billionaire businessman Lukas Henrik, and Elandess, owned by Lloyd Dorfman, both possess semi-submerged lounges. However, Sailing Yacht A, owned by Russian billionaire Andrey Melnichenko and designed by Philippe Starck, goes further. It has a completely submerged lounge that allows those on board to see through to the bottom as well as views to both sides.


Missile defence systems
Melnichenko's Sailing Yacht A has a missile defence system and bomb-proof glass, as well as 40 CCTV cameras that cover all of the shared guest spaces and private suites. Eclipse, the world's second-largest superyacht owned by Russian businessman and owner of Chelsea Roman Abramovich, is also fitted with a missile defence system.


Swarovski crystal interiors

Cadet V, the fifth Ilumen superyacht from Austrian-owned, Italy-based shipyard Dominator, has a Swarovski crystal masterpiece from artist Stefano Curto, consisting of blue, white and silver crystals. It sits on the forward-facing wall of the main salon for diners to admire.


Dive centres
Some superyachts are built to also take on ocean research, with fully equipped dive centres on board. The 70 metre Samaya, owned by CEO of Patek Phillipe Christine Shrestha Stern, was created ready to explore some of the world's most remote regions. The centre is fitted with a nitrox-enriched air system, finished with a high-quality teal floor and metallic and wooden ceiling.


Indoor tennis court
The tennis court aboard the 98.4 metre AVIVA, owned by British billionaire and Tavistock group owner Joe Lewis, is considered a real feat of modern engineering. Two tons of sand were needed to produce the bounce a regular court would produce and soundproofing was also required to ensure guests could still enjoy the yacht without being disturbed by play.
Concert hall

The 155 metre Al Said, owned by Sultan of Oman Haitham bin Tarik, has a concert hall onboard capable of seating a 50-piece orchestra. She was launched in 2007 and, at the time, was the second-largest in the world. Today, she is still considered one of the world's most luxurious, despite there being no known pictures of the interior. 


Outdoor cinema
Some superyachts boast innovative designs, including sails that double up as cinema screens. The 88 metre Maltese Falcon, owned by the hedge fund manager Elena Ambrosiadou, boasts the largest outdoor cinema on the water with the lowest sail on the mizzen mast functioning as the screen.


Swimming pool
Typically, swimming pools and Jacuzzis are the crowning features of the superyacht's exterior. Dilbar, owned by Russian oligarch Alisher Usmanov, has a 25 metre swimming pool on board, the largest superyacht swimming pool currently in existence. The pool is around 6 metres across and 2 metres deep, decreasing to 1 metre at the shallow end – therefore needing 21 oil trucks filled with water to fill it. To allow the yacht to operate with stability, the pool has to be emptied every time it begins cruising, meaning this filling process is repeated by watermakers onboard each time the anchor is dropped.


Crew
These yachts take a skilled and organised crew for them to run efficiently, and serve the guests' every need. From personal yoga trainers, beauticians and PADI certified diving instructors the crew's abilities are vast. Dilbar, for example, has a crew of 100 staff to allow her to run. In order to feed them, Dilbar chefs prepare approximately 73,000 kg of crew meals each year.