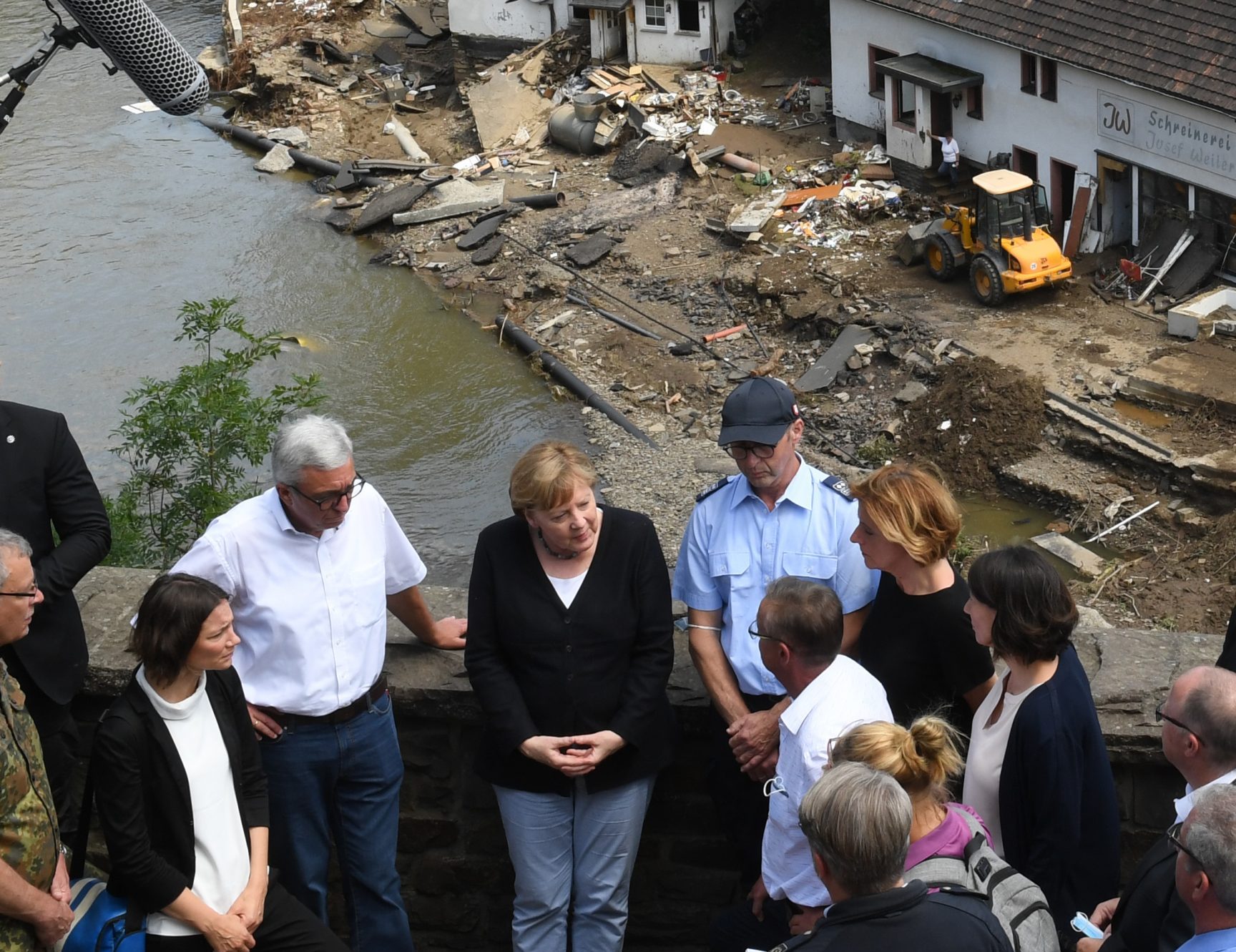 Whenever someone in the know tells you that nothing is happening, it is time to fasten your seat belts. It happened to me in 2001, talking to a close member of Tony Blair's entourage, who was lamenting the fact that the world was so quiet. This was the weekend before 9/11.
The same occurred just a few weeks ago, when a senior member German official told me that the country's election campaign was dull, the outcome preordained. That was on the eve of the Biblical floods of July 15.
The made-for-television catastrophe saw villages submerged by slurry, churches blown away, bridges collapse. At the last count, the death toll was creeping towards 200, with many still missing. In some places, potable water, gas and electricity are still being restored. It will take many years and many billions of euros for communities to be rebuilt, physically and psychologically.
Disasters have a habit of occurring during German elections. Nearly 50 years ago, Helmut Schmidt, the city's senator of the interior, handled flooding competently, going on to become mayor and later a successful chancellor. In 2002, Gerhard Schröder, turned around a previously lacklustre campaign to secure re-election having put on his rubber boots after several major rivers burst their banks.
The scale of the devastation this time is as never before. There was general agreement that the regional authorities had been slow to respond to meteorological warnings.
Immediate consensus was reached on the cause: the climate emergency. All parties pledged to do more.
Yet what is most remarkable is that the opinion polls have barely moved. So far.
The Christian Democrats, Angela Merkel's party, seem stuck at just below 30% per cent. The Social Democrats languish at barely above 15, just a few points ahead of the small Liberal FDP. The far-right AfD are on about 10% (still disconcertingly high, but far off their previous highs), while the left-wing Die Linke bring up the rear, a little above the 5% threshold needed to enter parliament.
As for the Greens, they too haven't budged, at just below 20%. One might have assumed that this latest climate disaster would have galvanised support for them. Back in April when Annalena Baerbock was appointed leader, such was the hype that they hurtled into unknown territory, almost level pegging with the CDU.
She then became embroiled in a series of mini-scandals, all of which were eminently avoidable – cutting and pasting other people's thoughts into a political memoir with the anodyne title Now: How We Renew Our Country and embellishing her CV. Any half-professional communications team would have prevented giving such easy ammunition to her political opponents and to the army of misogynists that populate social media in Germany as much as they do anywhere else.
None of the chancellor candidates have emerged enhanced by the floods. Armin Laschet, Merkel's designated successor, was caught on camera laughing offstage as Germany's president was delivering an emotional speech to survivors. Laschet's new-found commitment to radical action on climate also sits uncomfortably with his pro-heavy-industry record as prime minister of North Rhine Westphalia, one of the two areas worst affected.
The SPD candidate, Olaf Scholz, also happens to be finance minister in the outgoing coalition. As the man splashing the cash, he too might have been a beneficiary.
The problem for both Laschet and Scholz is that when accompanying Merkel during her several visits to the affected regions, they cannot match her for empathy. More and more the public are beginning to appreciate the void that she will leave when she steps down in just a few months' time.
So why have the Greens been unable to step into the void? Their immediate problem has been a lack of role. Unlike her opponents, Baerbock has no executive function, either at national or regional level. She was on holiday when the floods occurred (no crime, it is peak vacation time in Germany), but she was wary on her hasty return of being seen to be exploiting the tragedy for campaigning purposes. Therefore, she received scant airtime.
But there is a bigger problem. The German Greens are the most popular environmental party in the developed world. They are thoroughly mainstream and deemed to be respectable partners for any future coalition.
They already form part of 10 of the 16 regional governments. They have just been re-elected as the ruling party in one, Baden Württemberg, which happens to be car capital. Its prime minister, Winfried Kretschmann, is a study in moderation, going out of his way not to antagonise the bosses at Mercedes and Porsche.
The desire for respectability has drained much of the radicalism out of the Greens. They are even cautious of drawing an explicit link between the climate emergency and weather. When Baerbock finally spoke up after the floods she listed "ambitious climate protection" measures only as the third of three steps required to address the situation: centralising Germany's disaster management system and adjusting the design of cities and waterways to prepare for future floods were, she insisted, of equal importance.
They are keen to shed their old image as the party that likes to ban things, as know-it-alls. They are adopting a Blairite strategy of not frightening the electorate, and then, once in office, engineering change by stealth.
They have a point. Germans are car obsessives. A speed limit on motorways is still considered beyond the pale. The decision to hasten the exit from nuclear has increased dependency on coal from fossil fuel-burning plants across the country, and on gas from Russia from the controversial Nordstream pipeline.
Germany enjoys the idea of having a strong Green party but is reluctant to endure the pain of getting to a carbon-zero world. Hence an election campaign that until the floods was based on continuity rather than change. Laschet epitomised safety first. Partnership with the Greens would not have endangered that.
But what happens when people no longer feel safe?