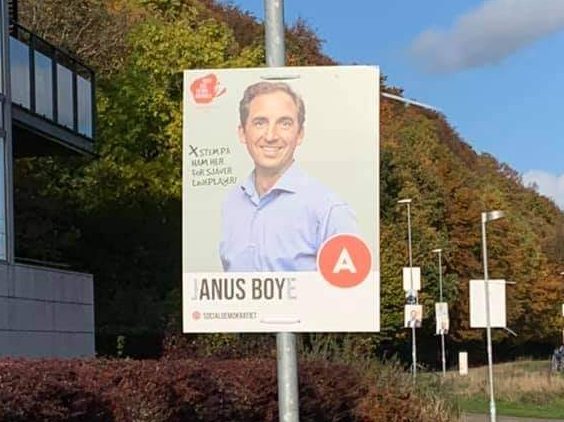 A Danish election candidate has seen the funny side of a printing quirk that has left his posters giving a quite different message to the one he intended.
Exposure to sunlight has faded out the first and last letters in the name of Janus Boye, who is running in a city council poll in Aarhus municipality.
The Social Democrat pointed out the mishap on Twitter, where he wrote: "Unfortunately, some of my election posters obviously have a minor flaw so certain letters can't hold up to the sun.
"Thanks to a quick citizen who made me aware of it. If you see other of my posters with the same error, smile."
---
A woman from Badalona, Spain, has been arrested on suspicion of faking her own kidnapping after cops say they found her playing bingo with some of the ransom money.
The 47-year-old is said to have contacted her husband, who was in hospital at the time, via an anonymous text message and demanded 6,000 euros (£5,096).
She was arrested in a bingo hall opposite the hospital where her husband was recovering, and now faces up to two years in jail.
---
Novi Pazar's handball team have withdrawn from the Serbian league in protest after rival fans taunted them by singing the name of war criminal Ratko Mladic during a match.
Supporters of Red Star Belgrade led the chants, commemorating a 1995 massacre of 8,300 Bosniaks in Srebrenica led by the Bosnian Serb general. Novi Pazar, in southern Serbia, is largely populated by people of Bosniak origin.
Novi Pazar officials said no attempt was made to stop the singing in honour of Mladic, now serving life imprisonment for crimes including genocide.
---
A cyclist who was about to win the Cicloturista Condaca Salmor event on the Canary Island of El Hierro was hospitalised when he crashed into a woman who walked out along the finishing line, while looking at her mobile phone.
Police said the man was taken to hospital with head injuries and had suffered temporary memory loss. They are deciding whether to press charges against the spectator.
---
A pair of Covid-sceptic restaurateur brothers have become a cause celebre in Zermatt, Switzerland after they were arrested for repeatedly ignoring attempts to close them down for breaching coronavirus restrictions.
Authorities twice sealed up the Walliserkanne's doors for violations including a refusal to ask customers to show their Covid passes, but returned to find the siblings and their customers back inside.
They then covered the eaterie's frontage with large concrete blocks, only to discover the brothers had improvised a bar on top of them, while one stood on the restaurant's terrace shouting "The Walliserkanne is open! Don't be put off by a few pebbles!" through a megaphone.
After crowds gathered to protest outside and customers were observed inside three days after the first attempted shutdown, the brothers were finally arrested.
A supporter said: "They were free men and now are political prisoners."
---
An Albanian put under house arrest near Rome turned up at his local police station and demanded to be sent to jail instead as life with his wife and family was intolerable.
The 30-year-old, sentenced for drug crimes and facing two more years of home confinement, told police in Tivoli he was "no longer able to cope with the forced cohabitation and preferred to escape behind bars," they wrote in a statement.
Carabinieri captain Francesco Giacomo Ferrante revealed: "He said, 'Listen, my domestic life has become hell, I can't do it any more, I want to go to jail'."
---
Hackers have shown off a fake Covid-19 "green pass" in the name of Adolf Hitler after breaking the cryptographic key used in the European Union's digital Covid-19 vaccination cards.
Counterfeit passes which contain a functioning QR code are said to be available on the dark web in any name you like for just £220 each. The cybercriminals behind them also showed vaccination cards in the names of SpongeBob SquarePants and Mickey Mouse.