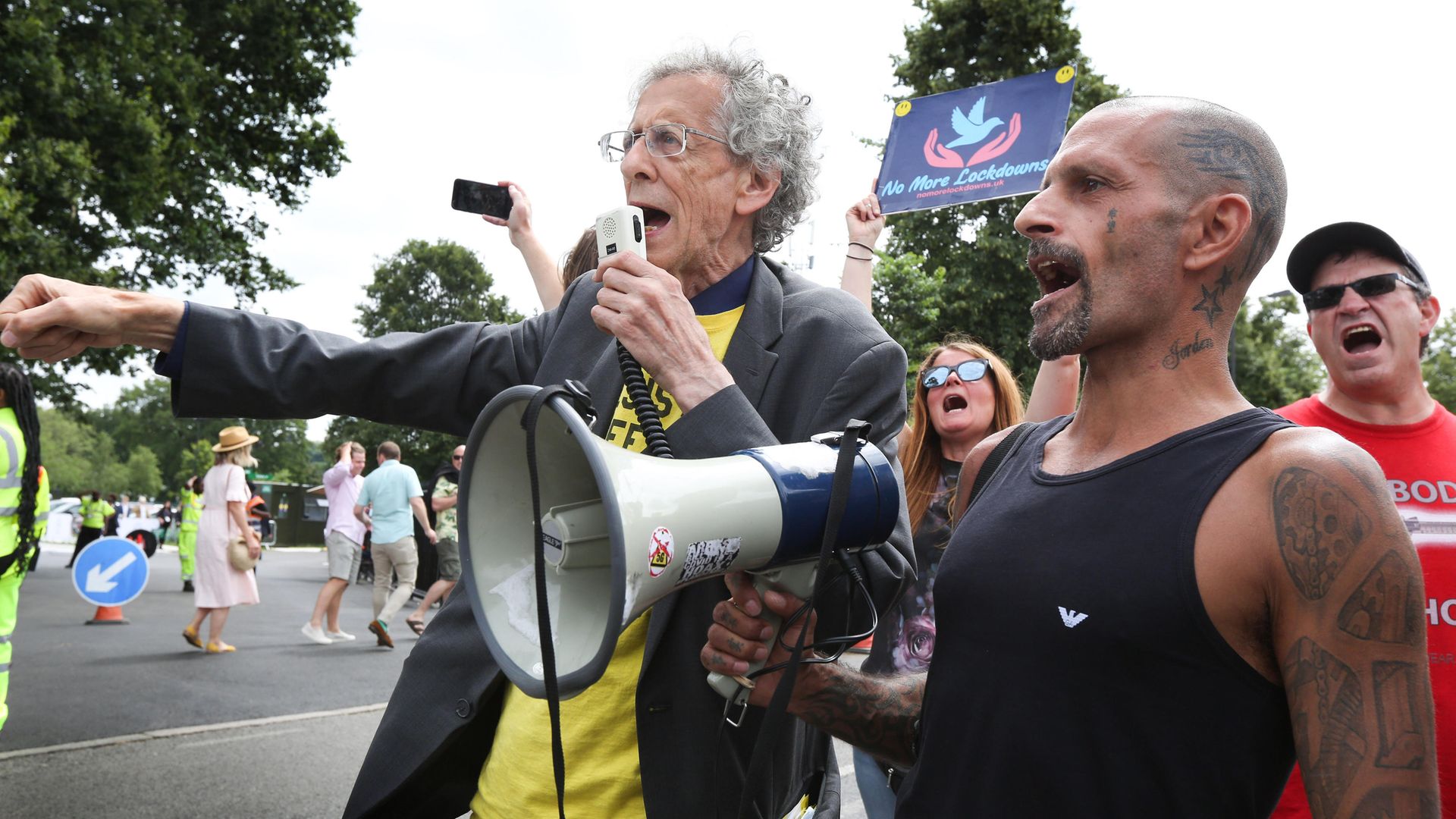 Mitch Benn looks at anti-maskers, the Boris Johnson U-turn on isolating and more in his review of the week in politics
Hello, and let me wish you all a belated Happy Freedom Day!  Yes, the day after which we are all now free to take one look at all our fellow citizens and decide immediately whether they're a kind conscientious person or a reckless, selfish jerk!  
We won't always get it right, of course; there are (and have always been, throughout the whole of this agonising slow-motion zombie apocalypse) those who've had legitimate medical reasons to go unmasked in crowded places. 
And even those without such an exemption, those who've only now ditched their face coverings, might have done so in all good faith, being the vanishingly small percentage of the public who actually still believe anything this government ever says about anything ever.
And yes, I know the Conservatives are still polling at about 45% approval, but even their own supporters know they're lying about literally everything.  There's something very reassuring, after all, about being lied to by an authority figure.  It absolves you of responsibility when their lies collapse, and it makes it okay to be a massive liar yourself…
STUNT DRIVING MANOEUVRE OF THE WEEK
The prime minister and chancellor of the exchequer didn't so much perform a U-turn on Sunday morning as pull a perfect squealing donut.  
Having been "pinged" by NHS Test & Trace after a personal meeting with the now Covid-positive health secretary Sajid Javid (and it tells you everything you need to know about the utter chaos this country's mired in that I don't even have the time or word count to crack all the jokes thrown up by the words "Covid-positive health secretary") the twosome first blithely declared on Sunday morning that they would NOT be going into self-isolation. This turned out to be because, by an extraordinary stroke of luck, a "pilot scheme" had randomly selected them both for daily tests instead.  
When this announcement was greeted with the sound of more or less the entire adult population of the UK shouting "YOU HAVE GOT TO BE ****ING KIDDING ME" in unison, Messrs Johnson and Sunak hastily changed their plans and announced that they WOULD, in fact, be going into isolation after all, even if this meant missing Freedom Day (cue sad music). 
While few people have a problem with either gentleman being out of circulation for a while (indeed if Mr Johnson saw fit to self-isolate for the next 30 to 35 years that'd be just fine by me), it is interesting to note just how badly they "read the room" on this occasion.  You're getting lazy, boys.
We all know it's one rule for you and another for the rest of us, but you're not supposed to say it out loud…
FWAFF FWAFF FWAFFETY FWAFF OF THE WEEK
If you didn't catch the prime minister's "levelling up" speech the other day, you didn't miss anything.  After 15 minutes of limp word salad, the Glorious Leader addressed mayors and other local leaders thus: "Come to us with a plan for strong accountable leadership and we will give you the tools to change your area for the better."
In other words, we got a quarter of an hour of waffle followed by "So… any ideas?"
Watching Boris Johnson right now is like watching a TV show that's already been cancelled but whose stars have to keep going till the end of the series to fulfil their contractual obligations.  Not only can't he be arsed anymore, he can't even be arsed pretending to be arsed.  
RESCUE MISSION OF THE WEEK
Troubled times at GammonBall News, the now permanently-absent Andrew Neil's vanity proj-… erm, I mean, heroic attempt to redress the liberal bias of the UK's TV news output (no, me neither, but apparently it's there if you look).  
The fledgling station's viewing figures are now not just low, but incalculably low, giving it a technical rating of zero for much of the day.  
With this in mind, GammonBall News this week unveiled their new star presenter, and it is, inevitably, none other than the unflushable turd himself, Nigel Farage.  
I have no doubt Mr Farage's beer n' fag-scented invective is just the shot in the arm the station needs.  He'll take that viewing figure of zero and double it easily.  Quadruple it, even.  Screw it, he'll multiply it by a thousand, just wait and see (or don't). 
POEM OF THE WEEK
The billionaires are up in space
History's most expensive race
While they're showing off in orbit
Their wealth can easily absorb it.
It's not even exploration
Just a gaudy demonstration
Of how absurd remuneration
Leads to pointless ostentation.
Is it really worth the fuss
To literally look down on us
High-fiving themselves as they're speeding
Round the world they could be feeding.
The billionaires parade their worth
But when they come back down to earth
It would be the best of japes
If everyone dressed up as apes.
Most popular