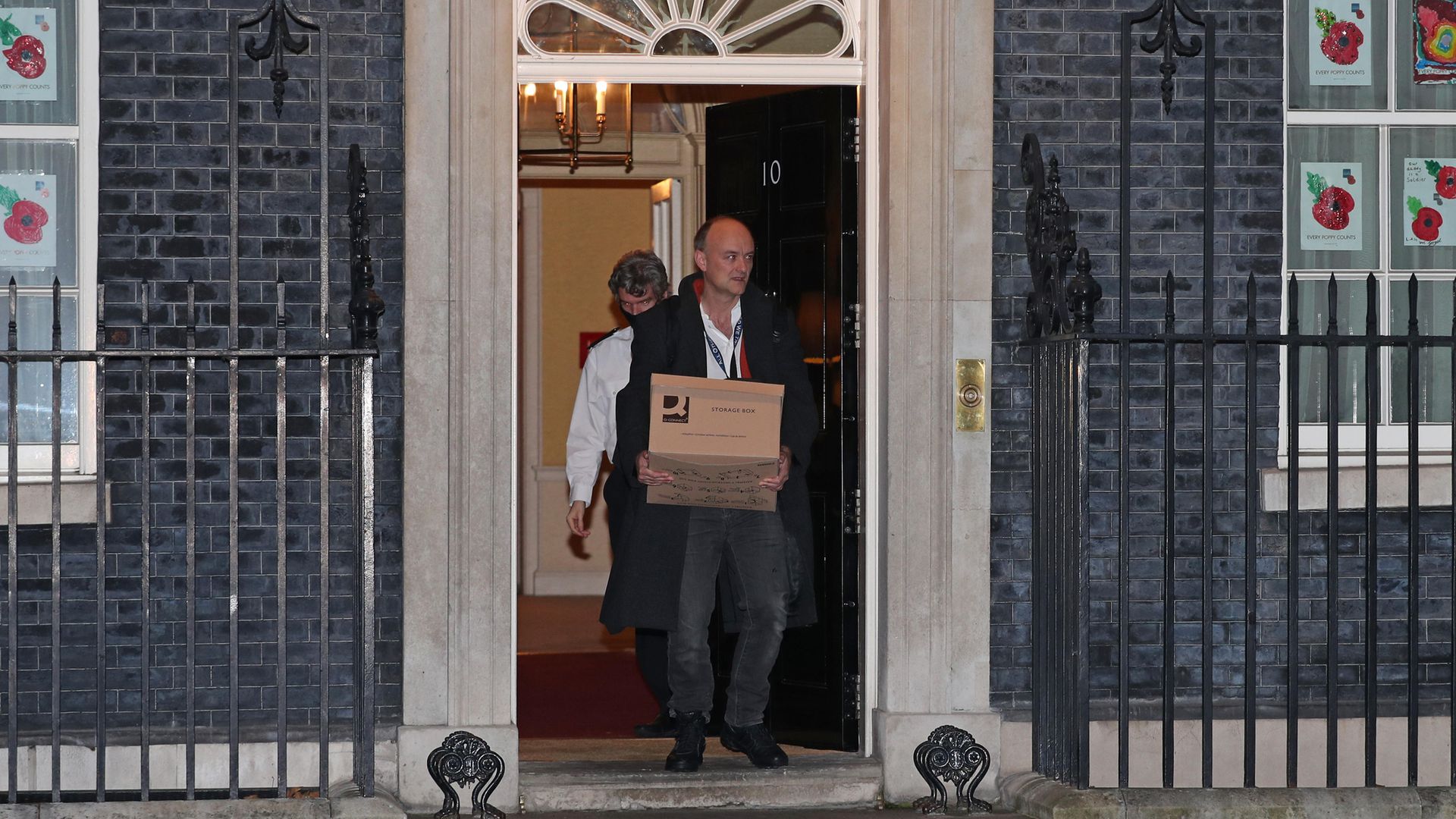 Downing Street has revealed Dominic Cummings has resigned with immediate effect after pictures emerged of him appearing to clear his desk.
The news comes after Boris Johnson's senior adviser was seen leaving No 10 with what appeared to be a cardboard box full of belongings.
The BBC's Laura Kuenssberg reported that Cummings spoke to the prime minister earlier in the day and that it was decided he leave immediately after days of turmoil.
Hours before he insisted to the BBC that "rumours of me threatening to resign are invented" after it was suggested he would exit in protest over the treatment of Cain, who quit as communications chief, before saying he would go at Christmas.
There had been speculation that Cummings' Vote Leave colleague may have been behind the leaking of the prime minister's lockdown plans just under a fortnight ago.
Downing Street has denied the accusations.
Cummings' resignation follows days of speculation on whether he would follow fellow pro-Brexit adviser Lee Cain who quit No 10 after being overlooked for the role of Johnson's chief of staff.
Images of the Brexiteer leaving No 10 caused the government to announce the early exit.
ITV's Robert Peston tweeted: "I know Dominic Cummings is supposedly staying till new year. But this rather looks like him having cleared his desk."
Times Radio chief political correspondent Tom Newton Dunn added: "There are several alternative ways in and out of No10, via the basement back door or through the Cabinet Office. You only need to walk out the front door carrying a packing box if you want to be photographed doing it."
Joking about the picture, Wayne Adams responded: "Leave means leave."
MORE: BBC News host mocks Dominic Cummings over Twitter responses
"Has anyone checked there's no official secrets or mass personal data files within that box?" questioned The Concerned Lawyer.
Labour MP and shadow Lord Chancellor David Lammy tweeted: "Donald Trump defeated and soon out of the White House. Vaccine breakthrough. Dominic Cummings carrying boxes out of Number 10. The crisis we are living through is catastrophic, but my god, it is good to feel hope once again."
Paula Watt meanwhile commented: "This indicates Brexit end of transition is going to be really disastrous. He's doing a runner before the proverbial hits the fan."
The prime minister's official spokesman, James Slack, who will replace Cain when he leaves in the new year, continued to insist that Johnson is not being distracted from the national crisis by the row.
"What the prime minister and the government are focused upon is taking every possible step to get this country through the coronavirus pandemic," he said.
Most popular