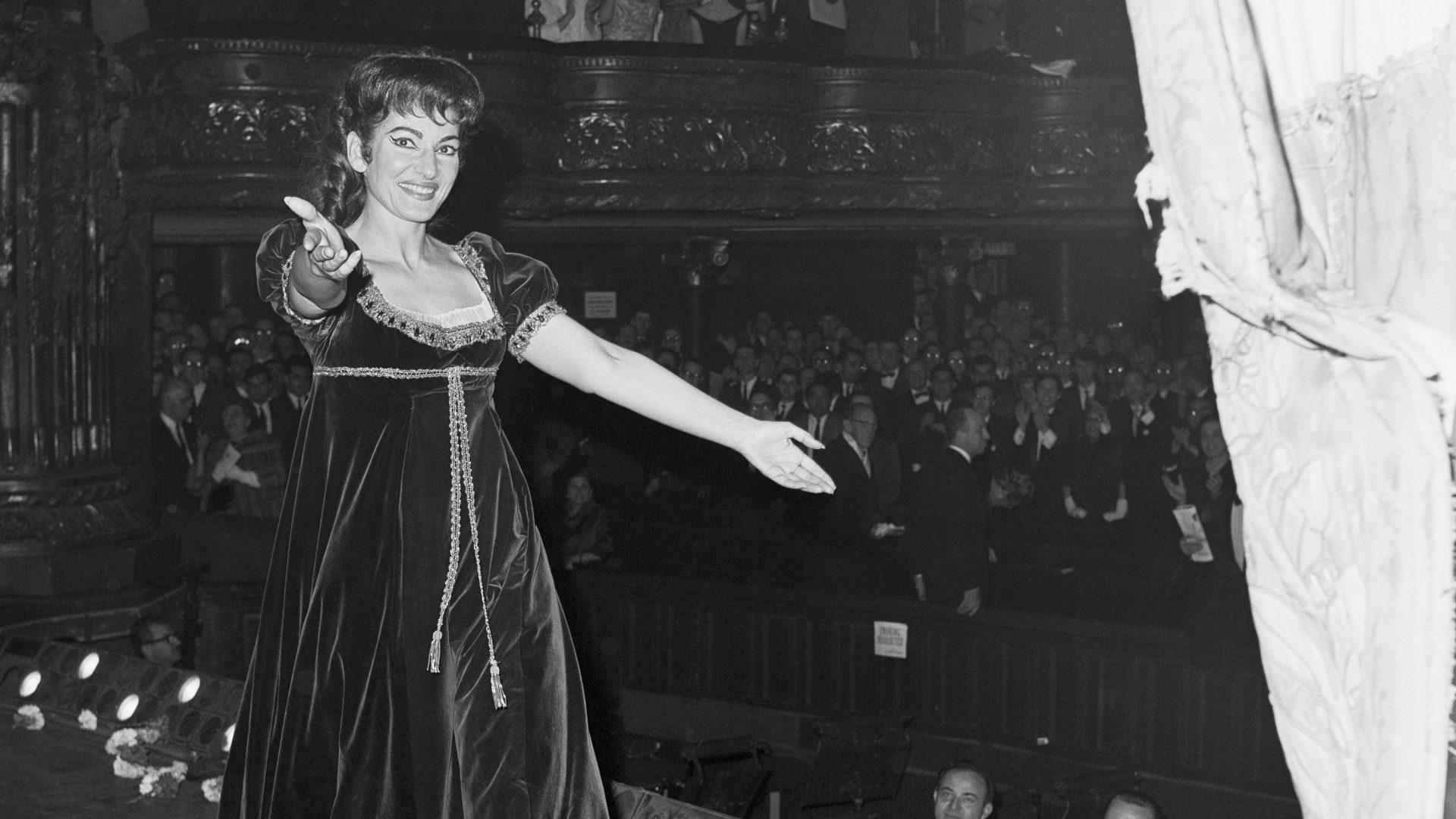 Trying to puzzle out the motivations of opera divas is like trying to understand serial killers. You must confront endless misery, without much illumination in return.
Maria Callas remains one of the best-selling classical sopranos almost 40 years after her death, with EMI reaping ongoing rewards for having recorded her, including long after her voice was past its best.
At her apogee, in Violetta's Act II aria from Verdi's La Traviata in a live 1955 performance from La Scala in Milan, her voice is a pillar of self-immolating, molten fury, fully aware of being doomed.
This consciousness of tragedy commands the attention and makes the listener excuse the fact that even during the half a decade or so that she sang at her best, Callas's tones were often oddly clotted.
Tedious, pernickety analyses of Callas' artistry on record have been published; perhaps that's why writers apparently prefer to focus on her private life, although most of these resulting books are even worse.
Two recent attempts to fathom Callas' life include Prima Donna: The Psychology of Maria Callas by a professor of psychology at Wellesley College, USA, who asks why Callas was so miserable, given her talents and the acclaim she won during her lifetime. Answer: she was a narcissist. Thank you, doctor.
Another explanation, from a different new book, Cast a Diva: The Hidden Life of Maria Callas, diagnoses the singer as a lifelong victim, which seems almost more unfortunate than the American psychologist's conclusion.
Of course, it is no surprise that the tragedy-laden art form of opera, where there are typically as many corpses onstage as at any performance of Shakespeare's Hamlet, should result in unhappy lives for those who embrace it.
Filmgoers with long memories will recall the 1993 Tom Hanks vehicle Philadelphia, a lugubrious Hollywoodised vision of AIDS martyrdom. In the film, Callas' voice has a costarring role, performing the morbid aria La Mamma morta (literally, 'Dead mum') from Giordano's Andrea Chénier.
Of course, it is all a matter of taste, but some people with terminal illnesses might prefer to go out on a slightly cheerier note.
It took a Serbian performance artist, Marina Abramovic to fully capture the doleful allure of Callas' career in a new "opera project," 7 Deaths of Maria Callas. Abramovic's website notes about the soprano: "Like so many of the characters she created on stage, [Callas] died for love. She died from a broken heart. Most operas end with the woman dying and more often than not, it is because of love. She will leap from precipices, burn, be strangulated stabbed or simply go mad."
Even when not overtly funereal, Callas conducted herself with high seriousness, to the point where it seemed natural that some years ago, a France Culture radio programme, Maria Callas in History, juxtaposed events such as the Mau Mau Uprising and Suez Crisis with the question, supposedly of equal consequence, of what Maria Callas sang at opera houses on the given days when these incidents occurred.
Similarly, Callas' vocalising on her 1953 Puccini Tosca and 1954 Bellini Norma recordings acquire an aura of historical inevitability, much like her 1957 Donizetti Anna Bolena. In the last-mentioned production, despite her frayed vocal cords, listeners may find that they never cared so acutely before about the fate of the second wife of King Henry VIII.
A 1958 performance of Verdi's La Traviata from Portugal became so legendary that US playwright Terrence McNally even entitled a play The Lisbon Traviata, about a frenetic Callas fan. McNally then wrote another play, Master Class, inspired by vocal coaching sessions by Callas at New York's Juilliard School of Music in the early 1970s.
Whereas the real-life Callas was low-key, modest, and helpful to students by all accounts, McNally fashions a version of Callas that has been omnipresent in books about her: a ferocious death-dealing shrew.
In 2014, the death of director Mike Nichols capsized a project to film Master Class, planned to star Meryl Streep. The Oscar-winning actress doubtless would have presented a Callas midway between her harsh fashion editor in The Devil Wears Prada and Streep's warm and cuddly Margaret Thatcher in The Iron Lady.
To be fair, a certain split personality is conveyed in Callas's life, or as opera buff Albert Innaurato termed it, a "combination of ruthless arrogance and paralysing insecurity".
In her art too, while Callas' musicianship was usually admirable, she also showed dubious taste by shrieking high notes at the end of arias to ensure audience ovations.
Diehard Callas fans are galvanised by the most willful of these interpolations, like one from a Mexico City performance of Verdi's Aida in 1951. The story, in yet another Callas legend, was that the evening's tenor had irked her by adding his own top notes to distract from her performance. Yet background stories seem irrelevant, especially when we evaluate the response of the Mexican punters.
A rumbling noise goes through the public, as if an underground train had suddenly been driven through the stall seats of the Palacio de Bellas Artes. This was followed by an explosion of Spanish-language huzzahs akin to a moderate earthquake, which seismologists define as causing "some damage to weak structures".
If music lovers can be included among these weak structures, then certainly Callas' high notes – once heard, never forgotten – must be described as causing some damage.
In Maria Callas: Living and Dying for Art and Love (2004), an adulatory documentary, Judi Dench complained after having attended the diva's return to Covent Garden in July 1964 as Tosca that it was "unfair" that any performer should have such stage presence, in addition to such a voice.
Perhaps that should remain the ultimate word on the Callas phenomenon, and her unsettling life and art: "unfairness."