The UK, it appears, is a nation of peace and prosperity for all, with so few problems in need of tackling that ministers have to proactively look ahead for them.
This can be the only explanation for the Elections Bill, which has the government committed to spending £120m to require photo ID at the ballot box to tackle electoral fraud – which is already an offence and has secured only seven convictions in the last decade.
At a cost of somewhat over £15 million per offence, it clearly signals confidence that we have no other issues to tackle in our criminal justice system and simultaneously suggests that the millions of people without photo ID in the country can happily be disenfranchised without consequence.
Egregious as the new laws are, they do end up framing a significant question for the UK populace: what should the future of voting look like? Such questions can look technical and niche, but can be fundamental to deciding who governs the UK – even matters like polling hours can be seismic in their impact.
When working people without the authority to take an hour off in the middle of the day tend to vote for one party rather than another – such as organised union workers voting for Labour through the last century – having polling stations be open outside of usual working hours is fundamental to turning out the vote.
Interestingly, before the 20th century, the UK held its elections over several weeks, with polling stations open day after day. From 1885, this was changed to our current model of elections on a single day with voting hours initially set from 8am to 8pm. From 1913, candidates were allowed to ask to keep polling stations open for an extra hour at the start or end of the day, with our current 7am to 10pm voting hours only agreed from 1970.
When we look ahead to the next few decades and how voting will change, there seem to be few reasons to change the core of the system: people can vote remotely for several weeks ahead of time, or for a 15-hour period on the day, even if they will require photo ID in future as the result of outrageous, US Republican-style voter disenfranchisement from Boris Johnson's Conservatives.
The big question is almost certainly whether or not the UK shifts from our pencil-and-paper voting system into allowing digital forms of voting. Given the relentless controversies over voting machines in polling stations – especially when they don't leave paper audit trails – there seem little reason in the near-term future to change how we cast our ballots.
But as the years turn to decades, the analogue nature of our voting system will start to seem ever more anachronistic. Any conversation with digital security experts in the modern era about online voting leads to only one answer: universally, they say: "Don't do it."
Given the ubiquity of nation state hackers across the globe and our diminishing trust in people in public life, anything that could cast new questions over the legitimacy of election results is generally to be avoided. When anything on the internet can be hacked, it seems like the right idea to keep elections away from the network.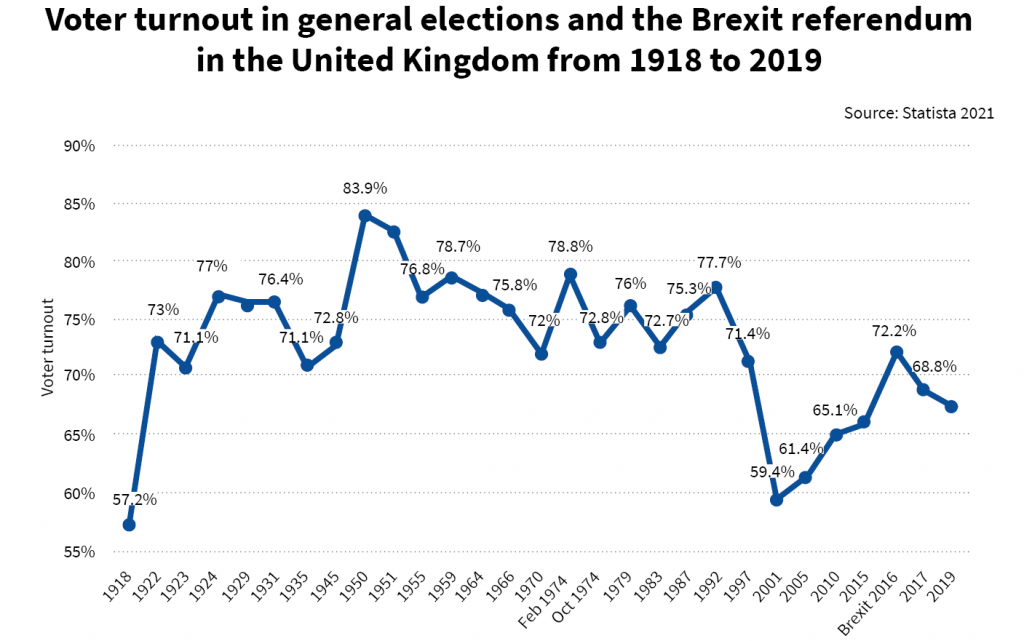 The question is for how long that can hold: you can sign a mortgage agreement for a home on the internet, send the £50,000 deposit for the property sale via the internet, and then book the truck to move into it through the same.
UK citizens can file their taxes online, book their coronavirus vaccines through a website, and order a new passport in the same way. All of those would be of interest to fraudsters and organised criminals, and so our insistence on keeping elections offline increasingly looks archaic: we might not do it in the next decade, but eventually elections will move onto the internet. Accepting that early will help us make sure we do it well and securely.
Perhaps the broader question on the future of elections is what voting system we will use to determine our government by the middle of the 21st century. Many, if not most readers of The New European are likely to hope that this will be done through some form of proportional representation. My contention is that we should all be rather careful about what we wish for.
The biggest hurdle to introducing proportional representation is that it would require one of the UK's two main political parties to advocate for it – which is essentially like asking someone to kick away the ladder they climbed up while they are still standing on it. Both the Labour party and the Conservatives benefit from first past the post – it is somewhat bizarre to expect them to voluntarily change it.
There is a second hurdle in the form of the British public: despite the wishes of a few politically active fringes, UK voters are generally fairly happy with the existing voting system. The only time in living memory we had a referendum on changing it was the AV referendum in the early years of the coalition, and in that vote only one area in the entire UK voted in favour of reform.
That's the hurdles in the way of changing the voting system. But there are also questions around whether changing it would result in the progressive majority people imagine. Our political memories are short: just a decade ago, Nigel Farage's incarnation of UKIP could easily poll around 15% to 20%. If we had run our general elections by a proportional system in that era, UKIP would almost certainly have been in government.
We tend to conveniently ignore this reality when we look wistfully at countries with proportional representation. Italy has had PR for decades and is notoriously ungovernable – it has had populist right-wing leaders for much of the last decade, but it has also got an average government tenure of less than 18 months. Israel has had four general elections in a row as it has failed time and again to form a government.
Even Jacinda Arden – New Zealand's progressive pin-up PM – has shown the perils of PR. Until her recent reelection, her government was propped up by New Zealand's answer to UKIP, with the profoundly right-wing party's leader serving as her deputy for the entire term of the last government.
The UK might, in the distant future, change its voting system – but the results if we do might be far less predictable than we might hope.
In the short-term future, the voting system is set to change in the grubbiest and most cynical of ways, designed only to disenfranchise people who are entitled to vote. In the longer term, voting must surely catch up with modern technology – for good or for ill.
What seems certain, though, is that the choice will surely often remain a difficult one for many of us. Holding your nose and casting a ballot for the least-worst option does, sadly, look likes a timeless thing.