Not sure if you've been keeping up, but so far this year we've had shortages of pub staff, care-home staff, lorry drivers, slaughtermen, vets, bouncers, fruit pickers and vegetable packers; poultry, potatoes, beer and petrol. 
Nando's ran out of chicken, McDonald's ran out of milkshakes. There have been problems exporting pigs and importing bees. Small businesses gave up selling cream cakes and stilton to Europe and big businesses (i.e. Marks & Spencer) gave up selling orchids or anything containing parmesan in Europe. The farming, fishing and fashion industries have been crying out for help, as have musicians and actors, who have all but given up touring on the continent. 
We've had vaccine wars, fishing wars, visa wars, holiday wars and football wars, plus the threat of conflict over bottled water, electricity and British TV shows. And that's without even thinking about the Northern Ireland Protocol (aka sausage wars). 
But don't run away with the idea that Brexit has been anything other than a monumental success. Roaming fees may be back (boo!), but so is duty-free that'll save us a quid on a bottle of wine (hurrah!). 
Anyway, it's obvious, isn't it, that the pandemic is to blame for all our ills?
And our government is "doing its best" with that. We had a world-beating vaccination programme and our economy is bouncing back better than any other G7 country. No matter that if you dig (or fall into) a hole deeper than anyone else's, then it follows that you have to climb further to reach solid ground; it's the fact that we're clambering up quickly, not how close to the surface we are, that proves our resilience. 
Most Remainers dealing with the five stages of grief after the 2016 referendum have gone through the denial. A lot are still angry, some of us have moved on to bargaining or depression and a few have even reached acceptance.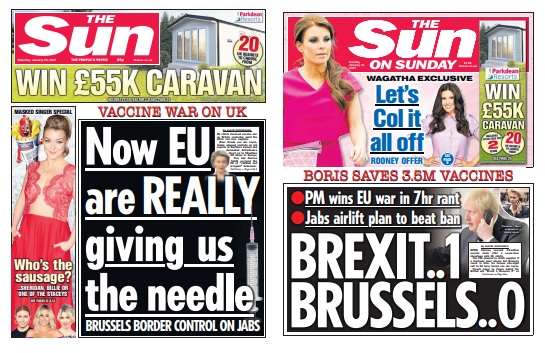 But what about the victorious Leavers, most especially the Brexit press? How are they feeling now the deed has finally been done?
Have they emerged into the sunlit uplands to embrace the new world? Is it as tickety-boo as they promised? Or do they notice clouds and an absence of unicorns?
Disappointment is not a shameful emotion; it's not a sin to clutch a much-wanted prize yet feel it isn't quite as wonderful as you'd hoped. In fact, it can be healthy: you can build on realism, find something better.
But those Brexity papers are going through a weird version of their own grief process and most are firmly stuck in the denial stage.
For the ultras – the Express, Telegraph and Sun – Britain is wonderful and Boris is wonderful. There have been all those "Brexit boosts": a £1billion investment from Nissan, a £1billion trade deal with Australia, which might help towards reinstating the triple-lock pension increase (annual cost: £3billion), even if it doesn't dent the £37billion test-and-trace bill. If there have been a few little problems, they have nothing to do with either the government or Brexit, but are either global matters beyond our control or the dastardly work of foreign (especially EU) malefactors. 
All three, plus Mail Online, managed to produce long, detailed stories about the lorry driver shortage in September without mentioning the B-word. Yes, America and Europe are suffering, too. Yes, there were many vacancies before we left the EU, the working conditions are unappealing, there's a disillusioned middle-aged workforce looking to early retirement.
But those other countries that need truckers don't have empty shelves or fuel pumps. Neither does (apart from a dearth of M&S sandwiches) Northern Ireland, which is still in the EU single market. There is an additional factor that has exacerbated the problem here and it is wilful blindness not to acknowledge it at all – even if you want to play down its importance.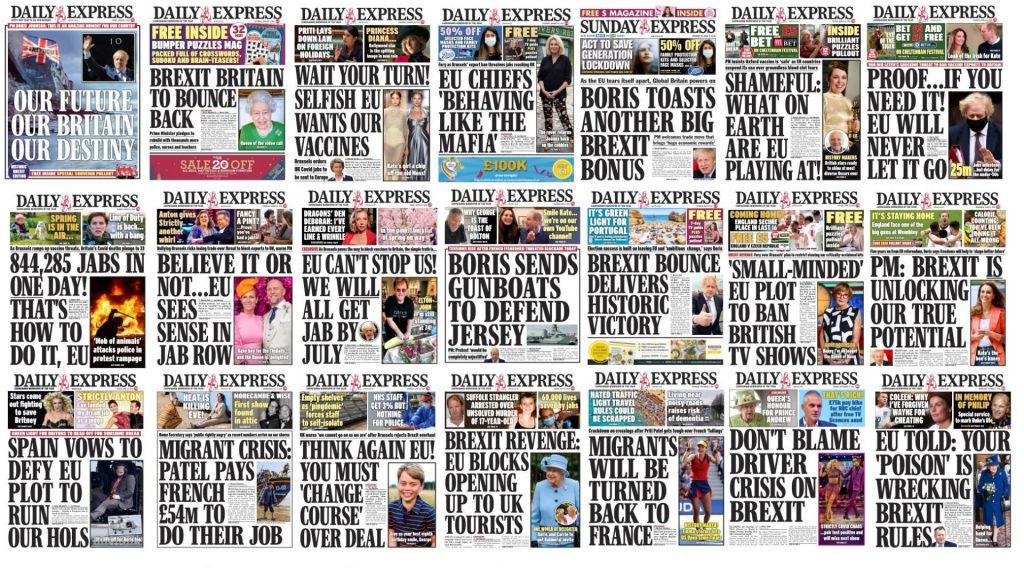 Eventually, the Telegraph ("Brexit not to blame for truck driver crisis") and Express ("Don't blame driver crisis on Brexit") tackled the connection head-on, the latter in a splash in which Iain Duncan Smith, Peter Bone and Andrew Bridgen insisted that the culprit was coronavirus. In the process, Bridgen denounced "the usual suspects" who "blame Brexit for everything" – an interesting choice of words from one of three Brexiteers who find Express reporters' notebooks ever open to jot down their every anti-EU uttering. 
The other side of this coin is to praise Brexit for every "positive" piece of news, from the return of blue passports to the ability to sell goods in lbs and oz. We could always have blue passports, we just chose not to. Greengrocers could always mark up goods in imperial – they just had to do so alongside the metric measures that everyone under 50 understands. But the greatest boon was the vaccine programme. Thanks to Brexit, we approved Pfizer's Covid vaccination before anyone else and got on with jabbing people more quickly than our European neighbours. Except we could have done that, too, as members. 
Anti-EU papers are, of course, in a bind. Rather like the Labour party – which learnt to its cost that you can't tell voters they were wrong and is now struggling to make its voice heard at all, even as the government flounders in a sea of incompetency – so papers can't tell their readers they made a mistake. Especially papers that cajoled and cheered readers on to make that choice. 
Instead of owning the costs (as well as any perceived benefits) and dealing with issues as they arise, they affect amnesia. "Cheaper food after EU exit" promised the Express in October 2016. According to this lead story, the rest of Europe would suffer "staggering" price rises, but costs here would come "tumbling" down because we had broken free. Almost exactly five years later, the same paper splashed on "Stark warning: get used to higher food bills". This was because there wasn't enough farmland in the world to feed the growing global population. But wasn't Brexit supposed to exempt us from the price rises that were going to hit everyone else? 
Another tactic is to cast others as the villain. Brussels, Biden and China may audition, but no one can match the French for this role.
They are trying to block our power supplies, their fishermen are invading our waters; they are not keeping their promise to stop people we don't want taking to the Channel in overloaded boats; their president is a "tinpot Napoleon", a "Poundland Putin".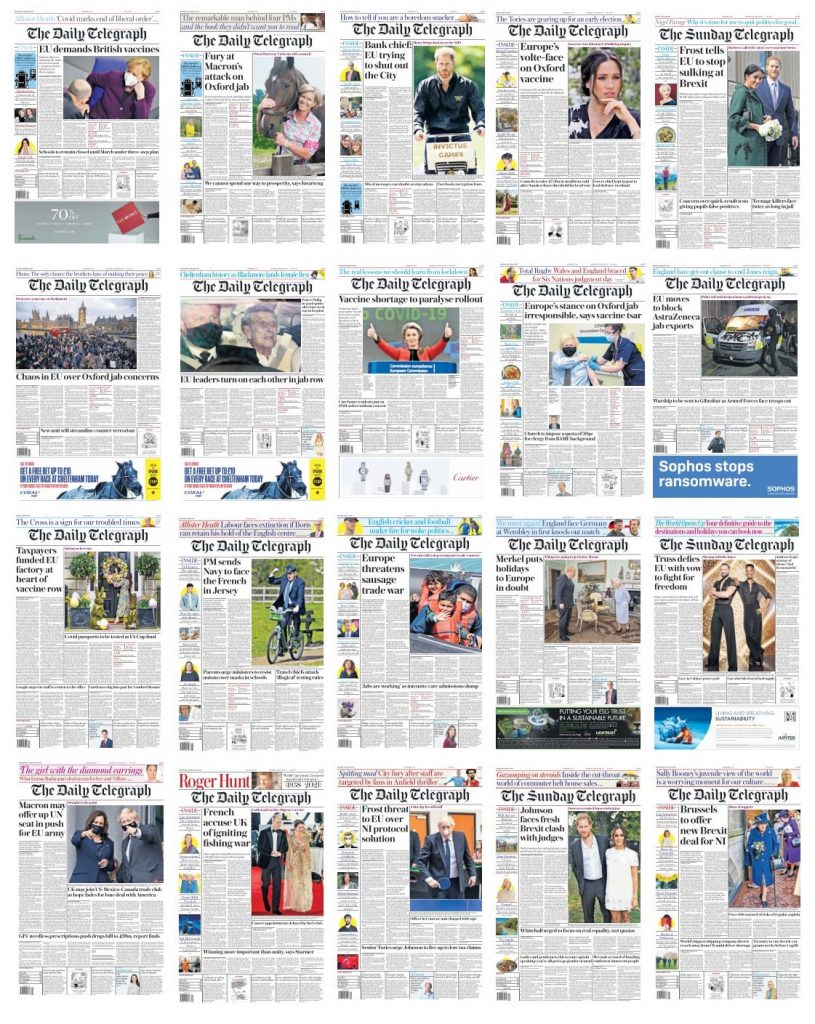 In the sane world, countries let people leave at will but police who is allowed in. But that convention has been turned on its head as we expect France to stop the migrant boats setting off from Calais. In July, Priti Patel signed a deal to pay them for doing so – rendered by an outraged Express as "£54million to do their job". But the boats kept coming, so in September, Patel threatened to withhold the cash. Except we hadn't yet paid anything.
A month later, as the papers got crosser as people kept arriving, we still hadn't handed over a single euro. And when the French interior minister suggested we keep our side of the bargain and cough up, the Mail accused him of "complaining" and "appearing to blame the UK" while his police "watched idly" as migrants piled into dinghies.
But that's just a sideshow to what was always going to be the main event: fishing wars. Oh how we loved those gunboats off Jersey in May. That showed 'em.
Then last week we had "Le Showdown" (as the Mail characterised it; it does like a bit of cod French) after a British trawler was seized for fishing off Le Havre without the proper paperwork. Now France is banning the import of British seafood, imposing more checks on goods from the UK and again threatening Jersey's power supply. It says we aren't abiding by the Brexit deal we signed, are not playing fair in the issuing of licences to French fishermen, and accuses us of using bureaucracy to deny them access to our waters. 
We, meanwhile, complain that the EU is abiding by the Brexit deal we signed, that it is not playing fair over Northern Ireland, and accuse it of using bureaucracy to deny our businesses access to their (and some of our own) markets. 
To many onlookers – and not just Remainers – Lord Frost is a diplomatic embarrassment, stirring up problems instead of solving them. For the Brexit-supporting papers, he is a hero. You can almost hear the Telegraph crying "Go on, my son" as it splashes on "Frost threat to EU over NI protocol solution". (An interesting one that – the story started out as Frost drawing up plans to replace the protocol, with a "warning" that we couldn't wait for ever and might trigger Article 16; but by the second edition the intro and headline had been hardened to a threat, although nothing had changed.) 
The Withdrawal Agreement isn't working; the protocol isn't working. They must be abandoned. And the European Court of Justice absolutely mustn't hold sway over us. But who signed off these arrangements? Who won an election on the back of an "oven-ready deal"? Maybe the amnesia is kicking in again, but the papers who laud Frost and Johnson never seem to mention that it was Frost and Johnson who negotiated and hailed these once "great", but now "unworkable", agreements. And when Macron reminds, the Mail reports it as "PM blasts Macron jibe".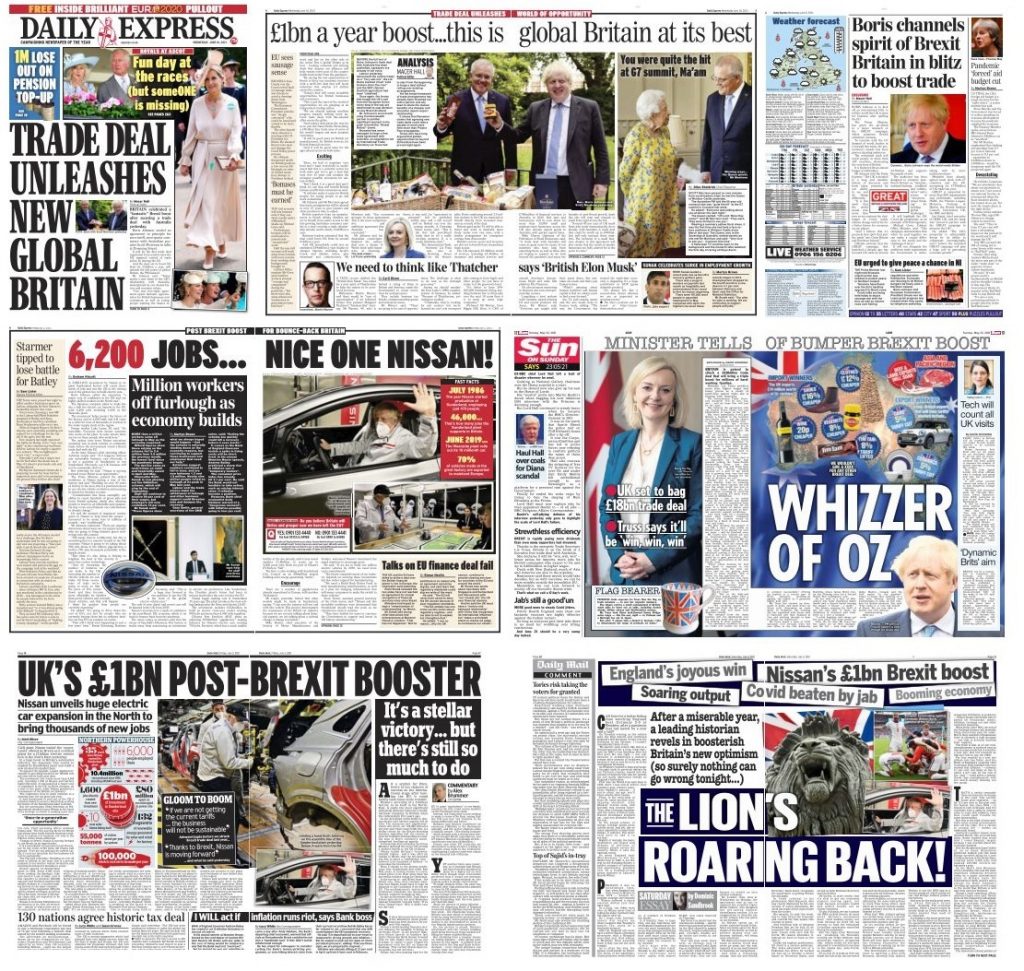 This business of obeying the rules of the club we joined and honouring the deals we signed is just so troublesome. And it goes back in history. As members, we were the eternal pains-in-the-neck when it came to negotiating EU treaties and legislation because we knew that we would apply the rules we were wrangling about while other member states might take a more cavalier approach.
Now the boot is on the other foot. Johnson and his press friends are alarmed that the EU is doing what it said it would do and implementing the agreements – and the resultant customs checks – that we signed up to. This shouldn't surprise papers like the Mail and Express, which have spent five years predicting that EU "bullies" would "punish" us for daring to leave. It does appear to have astonished the prime minister, though; he seems genuinely to have believed that "our friends" would carry on treating us as before – in spite of everything Juncker, Tusk, Barnier and the rest said all along. 
So Frost did a lot of threatening, the EU came back with an olive branch (or "Le Climbdown", as the Mail put it) and now we're talking at last. Brexiteers argue that tough-talking is a necessary negotiating tactic; others of us wish we didn't have to be so combative and wonder why we seem determined to make enemies of everyone.
The general public seems to share this dismay. While the country is still pretty well split down the middle about whether we should have left or remained in the EU, successive opinion polls show a substantial majority is unhappy about the current state of affairs.
Asked a couple of weeks ago how Brexit was working out, 61% told Opinium that it was going badly, against 32% who thought it was going well. A similar proportion told YouGov that the government was handling Brexit badly, against 23% who thought it was doing OK. Now 44% tell Opinium that Brexit is hurting the economy, against 23% who say the effect is positive.
Newspapers like to think they reflect as well as influence what their readers are thinking, so have they shifted their thinking at all since the referendum – or in the past 10 months of Brexit Proper? The Express papers certainly haven't. The new Labour-Remain-voting daily editor Gary Jones may have vowed to stop vilifying immigrants, but he hasn't softened the paper's stance on Europe one jot. 
Geordie Greig's Mail on Sunday recommended that readers vote to Remain in 2016. When he moved to the daily in 2018, Paul Dacre warned him that it would be commercial suicide to abandon the paper's pro-Brexit stance and Greig has duly toed the line, with the occasional burst of reasonableness. (It is noticeable, however, that the Scottish and Irish editions of the paper are more than willing to report the downsides of leaving the EU.)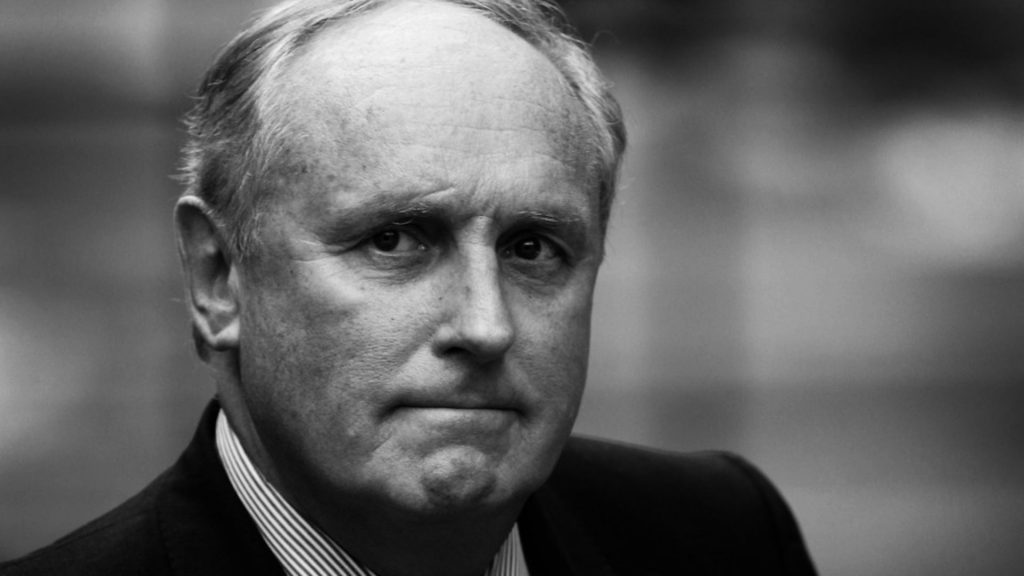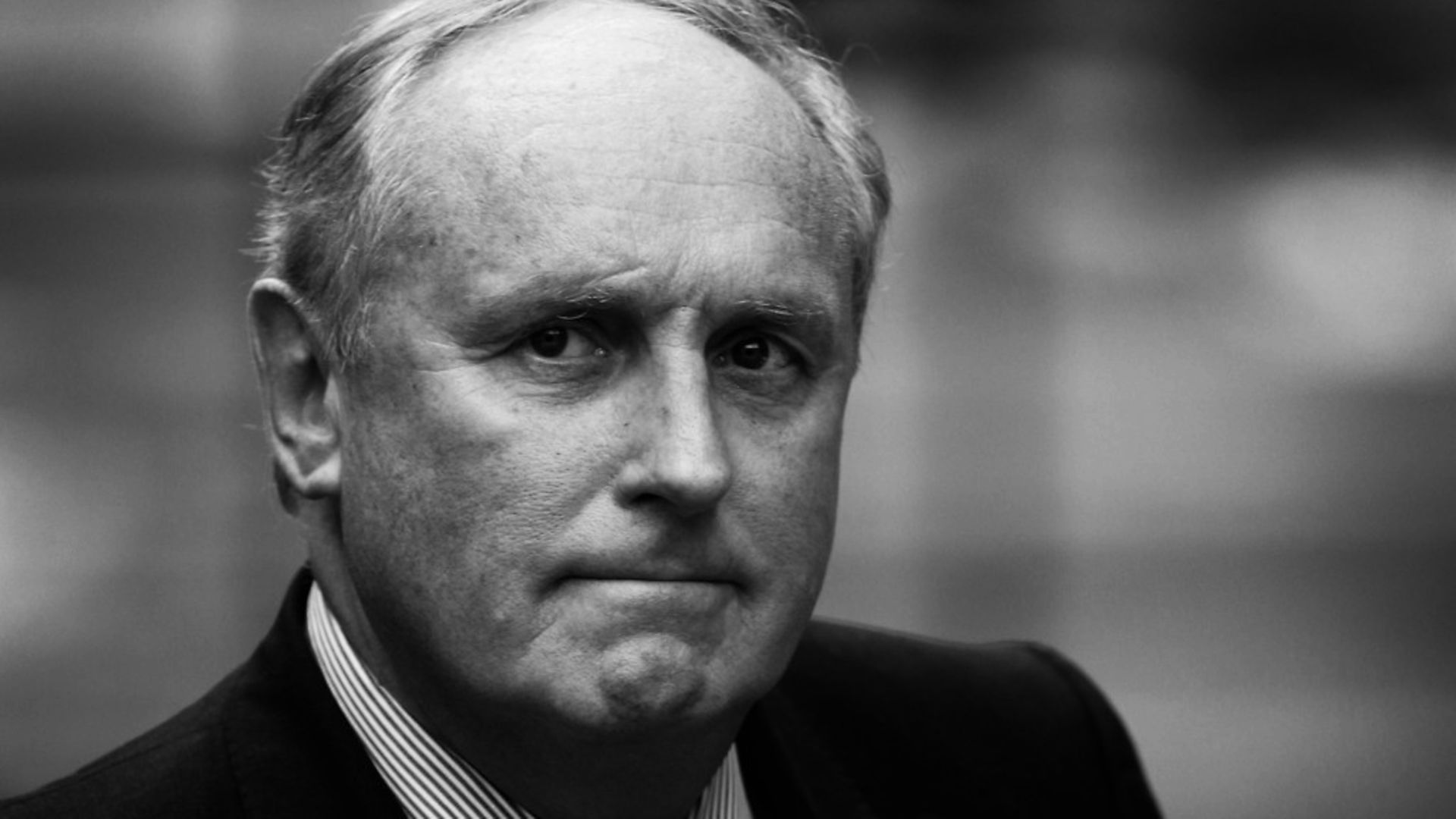 Greig's successor at the Sunday, Ted Verity, seemed to feel under no compunction to maintain the Remain line – and his paper is now even more Brexity than the daily.  The Sunday Times seems to have been moving in the other direction under Emma Tucker, who moved to the editor's chair from the Remain-supporting Times. Her paper seems more willing than other Brexit backers to see that it isn't all roses.
Columnists and cartoonists are allowed to voice concerns – Ruth Sutherland and Maggie Pagano have noted the effect of Brexit on British share prices, compared with those in Europe and America. Both are concerned about private equity firms hoovering up British businesses: "easy meat for the vultures", as Sutherland put it. 
Sutherland had previously made the same point in the Mail, again citing Brexit, but while the Mail has railed against the "vulture capitalists", "fat cats", "sharks" and "predators", Brexit is culpable only in the sense of the years of uncertainty or because its people were too focused on it to pay attention elsewhere. 
And, of course, the pandemic squirrel over there can always be relied upon to cause a diversion. Whatever will the Brexiteers do when it finally disappears?
HOW THE PRO-BREXIT PRESS AND GOVERNMENT ARE LINKED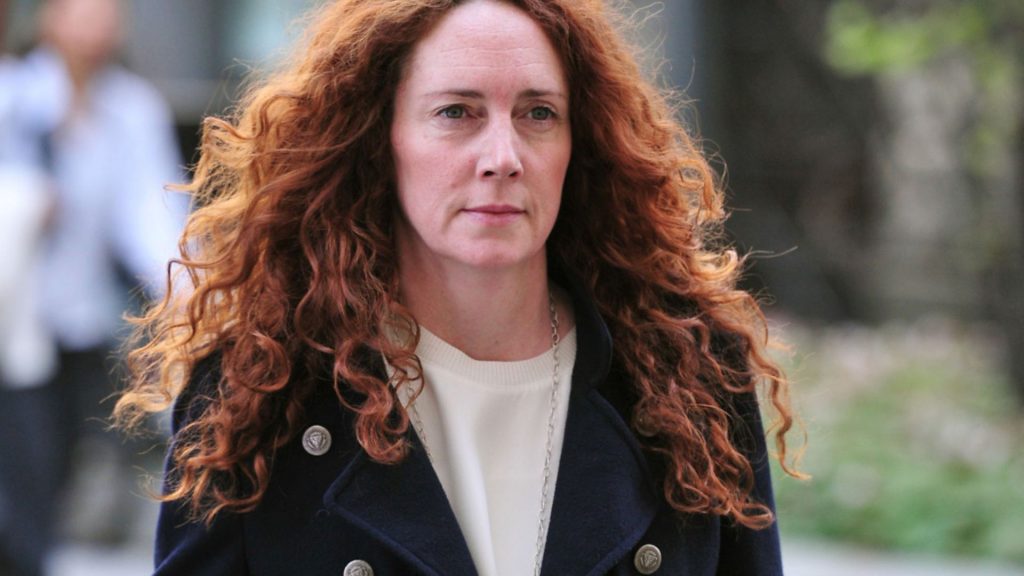 The Times
Formerly home to trainees BORIS JOHNSON (fired for making up quotes) and his press spokesperson turned COP26 spokesperson Allegra Stratton. She is married to columnist James Forsyth, whose best man at their wedding was Rishi Sunak. A former home for columnist Michael Gove, the once Brexit-sceptic paper is making a sharp turn right under John Witherow, who will be 70 in January and is tipped to be replaced by either his deputy Tony Gallagher (former Telegraph editor, who ran the Sun in its heavily pro-Leave referendum era) or Emma Tucker, who is seen to have made the Sunday Times less Brexity under her editorship.
The Telegraph
The so-called "house organ of the Conservative Party". Employed Boris Johnson as Europe correspondent (1989-94) and later as a columnist, paying him £275,000 a year for one column per week. Owned by the BARCLAY FAMILY, who also own the right-wing Spectator magazine, which was edited by Johnson from 1999 until 2005. Edited by Chris Evans since 2015, the "Torygraph" is unswervingly pro-Brexit and pro-Boris, although increasingly lockdown- and tax burden-sceptic.
Evening Standard
Backed Remain in 2016 but a long-standing supporter of Boris Johnson. Proprietor Evgeny Lebedev, the son of a Russian oligarch, was ennobled by Johnson, whose mayoral campaigns were backed heavily by London's paper while edited by VERONICA WADLEY, also given a peerage by Johnson in 2020. More recently it's been edited by former Johnson Cabinet colleague GEORGE OSBORNE and, until last month, Emily Sheffield, sister-in-law of David Cameron.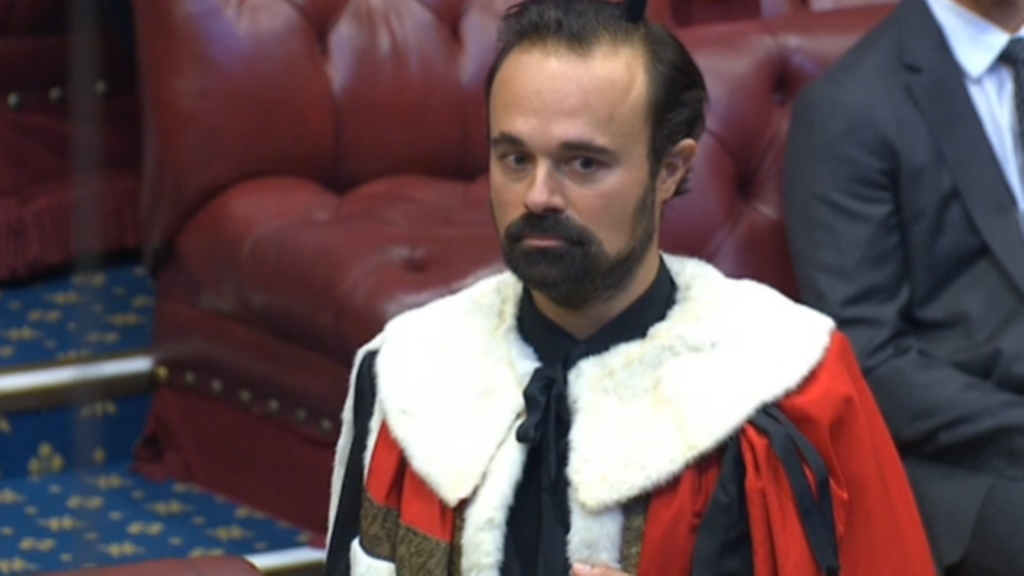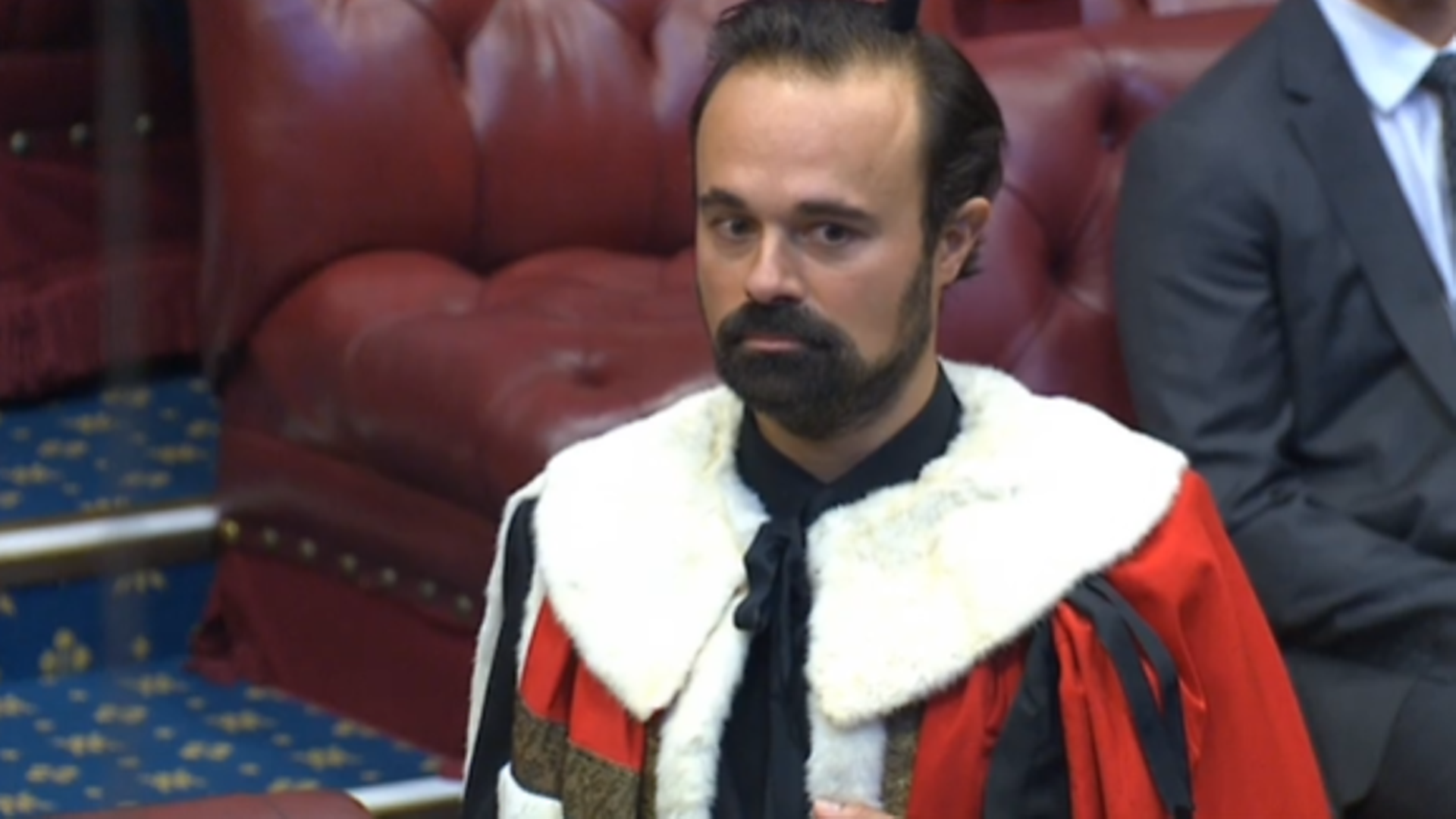 Daily Mail
Rabidly pro-Brexit (with headlines such as "Crush The Saboteurs" and "Enemies Of The People") under PAUL DACRE, now nominally editor-in-chief, but waiting to be offered the Ofcom chair by Nadine Dorries. Edited by Remainer Geordie Greig, but still sticking up for Brexit. Home to columnist SARAH VINE, the future ex-Mrs Michael Gove. The prime minister's sister Rachel Johnson wrote for the Sunday title, until she was sacked by incoming editor and Dacre protege Ted Verity.
The Sun
CEO and former Chipping Norton set fixture REBEKAH BROOKS is no longer pictured with the prime minister, but the declining Currant Bun is still fervently pro-Boris and Brexit. Edited by Victoria Newton, who had previously followed in the footsteps of Piers Morgan (went to CNN, then GMB and soon on to Rupert Murdoch's talkTV) and Andy Coulson (went to David Cameron's No.10, then prison) as editor of the paper's showbiz column Bizarre. Morgan has returned to write for the paper and appear on its new TV channel, which will rival GB News, increasingly bizarre employer of former Bizarre editor Dan Wooton.
Daily Express
Migrant-bashing has subsided under Remain-voting editor GARY JONES, but the paper and its website ("Boris to crush French fishing threat – Macron left reeling") remain unquestioning sources of pro-Brexit, pro-government cheerleading. The tax-raising budget was greeted with a front page reading "Cheers! Rishi On A Mission To Cut Taxes". JACOB REES-MOGG dips his quill to write a column on his favourite quotations for the Sunday version.