It was the summer of 2016 and I was feeling downbeat and depressed. Britain had just voted to leave the EU, a decision that was being framed by some as about economic sovereignty.
I was watching Channel 4 News which was broadcasting a report from Barnsley in which a middle-aged male voter, when asked why he had voted to leave, had told the reporter: "It's all about immigration. It's not about trade or Europe or anything like that, it's all about immigration. It's to stop the Muslims from coming into this country. Simple as that."
It was hard for someone like me, a British Muslim of Pakistani heritage, to not worry about whether I needed to reconsider my long-held assumption that Britain was fundamentally a tolerant nation.
The following summer a young Muslim man detonated a bomb inside an Ariana Grande concert in Manchester killing 22 concertgoers. That was also the summer when three young Muslims killed eight people in a knife attack near London Bridge; when another Muslim man drove a car into pedestrians on Westminster Bridge injuring more than 50, four of them fatally, before killing a police officer; and the summer when a man drove a van into Muslim worshippers leaving Finsbury Park, causing one death.
My mood turned from downbeat to despairing. I was the father of two young children who had a British Pakistani Muslim father and a white Scottish mother and I wanted my children to grow up feeling that both sides of their dual heritage were equally valued and respected.
That was not the prevailing narrative of the time – instead what I was sensing was an unease with the very concept of multiculturalism, a wariness about Muslims and the mainstreaming of the argument that there was something inherently problematic and potentially dangerous about Islam.
It was around then that I saw a quote that someone had tweeted from the American children's television presenter Fred Rogers. "When I was a boy and I would see scary things in the news," Rogers said: "My mother would say to me, 'Look for the helpers. You will always find people who are helping'.'' That quote was my call to action – it directly inspired me to write my new book, They: What Muslims and Non-Muslims Get Wrong About Each Other.
The challenge I set myself when writing the book was to be both clear-eyed and hopeful – I wanted to know if it was possible to explore some of the most contentious issues facing British Muslims and remain hopeful and positive.
In the book, I weave history, reportage and memoir. I chart the history of Muslim migration from the Indian subcontinent from the early 1960s to the present day by charting the lives and fates of the men who came to Britain from India, Pakistan and Bangladesh, following them and the lives of
their spouses and children and grandchildren.
It is through the lived experiences of these families that I engage with such issues as segregation, misogyny, extremism, homophobia and anti-Semitism.
The three years I spent travelling the country researching and writing the book left me frustrated by the poor quality of the conversation around race and religion in the media and wider culture. Put simply, many people are too certain about whey they think they know.
There is one group – who consider themselves progressive and liberal – who are more comfortable stressing the ways that systemic racism affects the lives of British Muslims. This liberal position tends to see Muslims as victims and is nervous about criticising Muslim communities.
There is another group – who might consider themselves traditional and conservative – who believe that as a society we are too squeamish about calling out Muslims for fear of being called racist.
These two groups can look at the same issue and draw entirely different interpretations and they tend to read those newspapers and commentators which support their preexisting positions.
What I found so fascinating is that when one actually spends time with British Muslims it quickly becomes clear that this is a woefully simplistic way of looking at complex questions.
I heard many inspiring stories while working on the book that challenge the common narratives about Muslims and non-Muslims – from the Muslim mother who had accepted her son was gay to the former English Defence League member who now works to combat radicalism, to the Muslim woman who married a Jewish man with her parents' blessing.
What they all shared was a willingness to escape their silos of certainty and that, I think, is the broader lesson for the rest of us.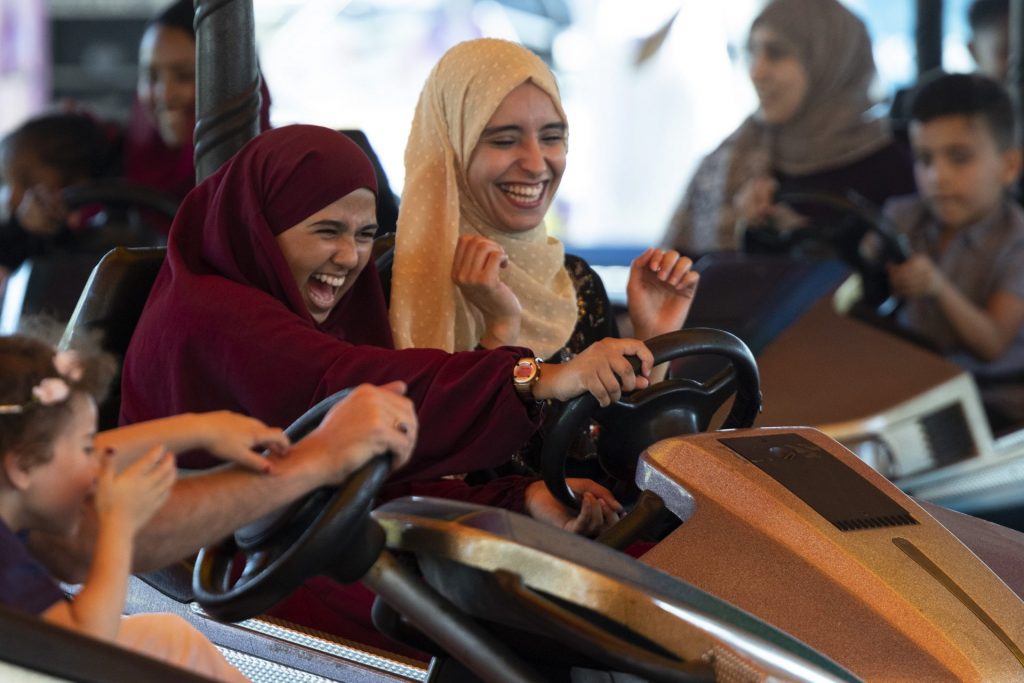 It is easy to view the Muslims in Luton, Blackburn and Bradford as living in segregated communities, but it is a touch more uncomfortable to examine our own lives.
For example, I tell myself that when I was younger, I left segregated Luton for integrated London. But is it really true that I am no longer in a segregated community?
I live in north London and the vast majority of my friends – if not all of them – share the same broadly liberal worldview: they all voted Remain, they all listen to BBC 6 Music and Radio 4, they own the same cookbooks by Yotam Ottolenghi and Anna Jones and discuss the same Netflix shows.
I don't recall an instance when I have had friends over for dinner and someone has complained that it might be nice to have a true blue Tory, or someone who is still working class, around the table for the sake of diversity. If segregation refers to living in a self-reinforcing bubble, then maybe I do live in a segregated community – one that is, on the whole, white, well-educated and well-to-do.
All of us could do with engaging with people who are outwardly different from us or who hold different views, because it is only in that engagement one finds common ground. It is healthy to question our own certainties and rethink what we think we know.
It is easy when one follows the news to fall into despondency and to start believing that things are bad and getting worse.
The experience of writing They has left me feeling far more hopeful about the state of relations between Muslims and non-Muslims than I was when I started.
In part, this is because when one surveys the history of Muslim migration into Britain it becomes clear just how much progress has been made, and this is progress I have seen during my own life.
I grew up in the 1980s believing that being brown-skinned with a foreign name and Pakistani Muslim heritage would limit my life opportunities.
The idea that someone with a background not too dissimilar to mine could one day become the mayor of London or the health secretary or a presenter on the Today programme or an acclaimed film star was comically implausible. And yet that is exactly what Sadiq Khan, Sajid Javid, Mishal Husain and Riz Ahmed have achieved.
I wanted to write this book to examine if there were valid reasons for feeling hopeful about the state of relations between Muslims and non-Muslims in this country.
It was fascinating just how often in my book change is the result of individual actions: the Muslim teacher who decides he wants to teach music to the children in his school, the Muslim woman who defends a Jewish father on the London underground, the Muslim woman who decides she will not consent to marrying her cousin, the Muslim man who helps his local Jewish community.
These are all individual actions that proved to have far-reaching consequences. What I came to understand was that the journey towards a more hopeful and united society rests on not only politicians and policies but also on people.
We all have the power in our actions to move the dial towards the society we would wish to build. Hope lives and dies in the hands of individuals and the choices we all make.
They, by Sarfraz Manzoor is published by Wildfire, £20