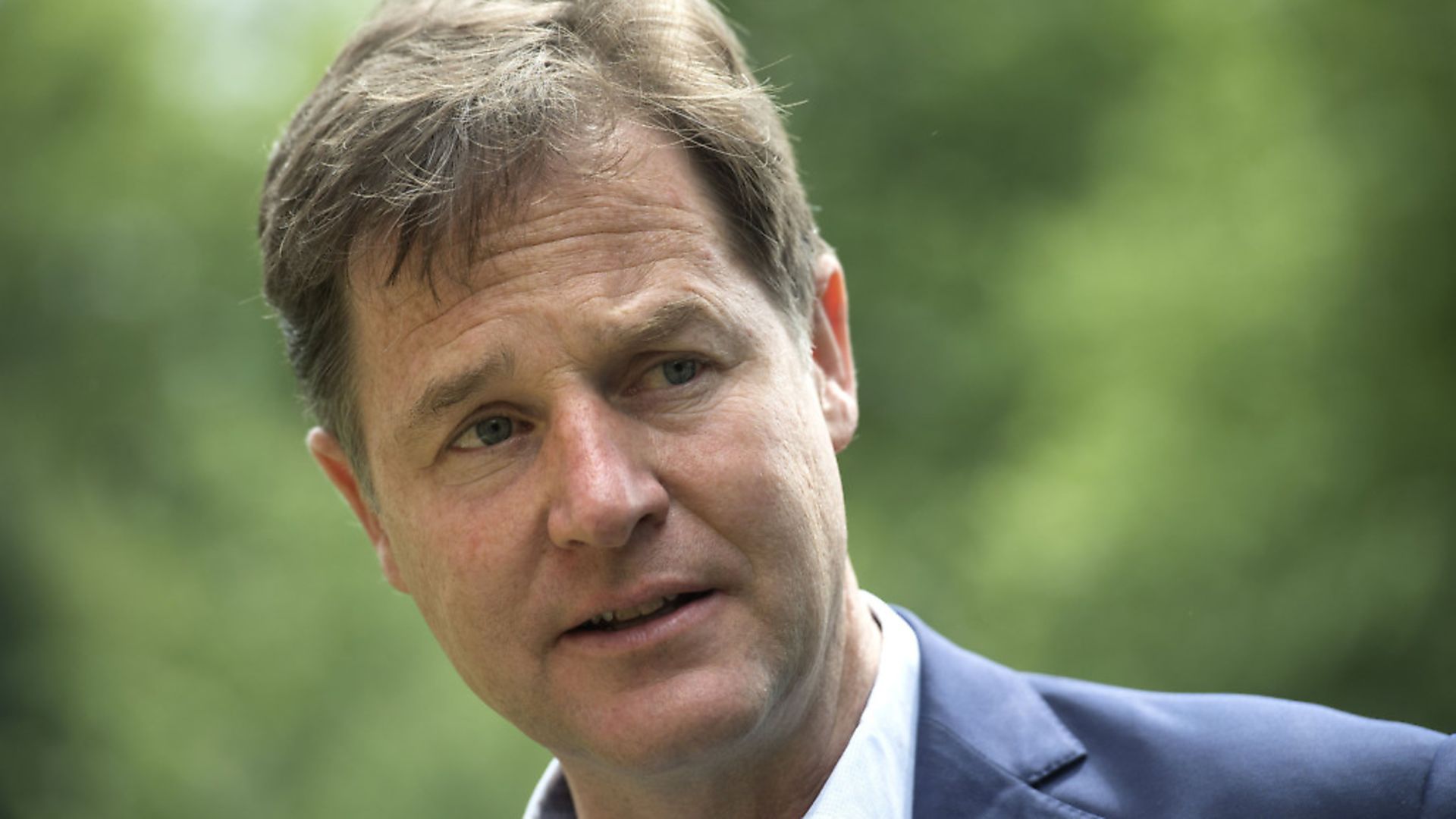 I am not, and never have been, a Nick Clegg admirer ("Why Lib Dems won't hit 'like' on Facebook Nick", TNE #257). I am not sorry that neither he nor most of the LD 'Orange Book' generation is no longer active in British politics. And I agree his acceptance of the Facebook shilling is a continuing embarrassment to both the Liberal Democrats and the pro-European cause.
But what Tim Walker's article didn't ask is what Clegg was supposed to do having lost his seat. What do we expect of our fallen politicians?
Cameron's record is far from good and Osborne's far from attractive. Blair has become extremely rich. In different ways, he and Gordon Brown almost claim the monarchical right to advise and maintain a sort of public service role.
It is true that a few politicians move into NGOs (David Milliband for one) or think tanks or lobby groups. But the rest?
There is no equivalent in Britain to the salaried distinguished fellowship that some American universities offer out-of-post politicians (see Rory Stewart).
And there are virtually no recent examples of ex-politicians being appointed to a senior executive post in universities.
A few might return to the profession from whence they came (the law, medicine) but what of those – like Clegg – whose life has been politics and political activism virtually since graduating?
The Clegg problem is not simply about Clegg: it is an illustration of a larger problem about the political class in this country. Politics is a career in itself and when it ends, there is little or nothing to turn to.
Seen like this, becoming an ornament to Facebook does not seem so unreasonable, and who knows, he might even do some good.
RW Hoyle
Spencers Wood, Reading
Tim Walker accuses Nick Clegg of "greed" and, by implication, unprincipled self- advancement. In fact, there is considerable evidence that Clegg is a man of principle.
For example, while working for the European Commission we are told he was quietly offered a safe Tory seat by Britain's commissioner, Leon Brittan, but turned it down as he is "liberal to the core."
Walker goes on to imply that in 2010 coalitions with either the Conservatives or Labour were equally available. This is not the case.
As David Laws has made clear, whereas Gordon Brown would have liked a coalition, certain Labour diehards were implacably opposed. A coalition with the Conservatives, confidence and supply support or a minority Tory administration were the only options.
In my view, the mistake Clegg made was not in forming the coalition with the Tories, but in undertaking to "support everything: we cannot pick and choose." Rather, he should have been selective in what he was prepared to support, as the Scottish Greens have been in forming their present coalition with the SNP.
He could also be blamed for naivety in trusting Cameron.
Walker claims that by joining Facebook, Clegg has "sold out." It could equally be argued that the Facebook leadership have been brave in appointing a man of liberal principle to help them clear out their Augean stable.
In five years or so we shall be better able to assess Clegg's record.
Peter Wrigley
Liberal/Lib Dem member for 60+ years
Jab's not done
I appreciated James Ball's article ("Has the UK lost the jab race? TNE #257). It seems no coincidence that the UK's being overtaken by other countries coincides with a significant drop in interest in the figures on the part of the government and its loyal media.
However, as James rightly points out, Covid and vaccination rates are global issues. A glance at the global statistics reveals parts of the world where infections are rife and vaccination rates very low.
Some EU countries are now in a fourth wave despite their accelerating vaccination figures. 'Nobody is safe until we're all safe' only seems to apply here when someone finds some unused vaccine at the back of a cupboard. A real challenge, then for Global Britain.
Rex Nesbitt
Bad terms
Vera Lustig (Letters, TNE #257) is right to remind us that a 'Rejoin' victory would not be assured in a future referendum. Its terms of reference could easily be skewed towards a No vote by requiring an unlikely two-thirds majority, so there will be no mandate to rejoin.
In any case, what terms would be offered by the EU to a UK which is neither respected nor trusted, and which has spent years sending out condescending and hostile messages? Not much that would be palatable to our electorate, I fear.
What I hope for now is to find some competent negotiators somewhere who can restore a modicum of credibility and discreetly repair some of the bridges we have burned.
Nigel Britton
Zeroes rated
John Crellin's letter from TNE #257 highlighting the erroneous statistic in the article by Liz Gerard on the public's misunderstanding of government spending, was slightly spoiled by his own error.
The sum of £3.7bn for 40 new hospitals equates to £92,500,000 a pop, not £925,000,000 as John quoted nor £925,000 as Liz quoted. Those noughts are truly difficult to handle!
Martin Smith
Sherston, Wiltshire
Summer sloth
Asterix aficionados will recall that one reason the Romans found it so easy to invade Britain was that the Brits laid down their arms every day at 4pm for tea. That cunning strategist Julius Caesar soon worked out that if his legions attacked at around that time, conquering became much easier.
Would-be modern invaders will surely have noticed that the best time to cause any sort of disruption to the UK is the summer.
They can be more-or-less guaranteed that key ministers and civil servants will be on holiday, those remaining will be asleep on the job, phone calls will neither be made nor answered, and there will be the usual vacuum of leadership.
Phil Green
Coward's way
Tom Tugendhat's article ("The price of inaction can be more than inaction", TNE #256) was a voice of clarity from the Tory backbenches.
By quoting Jo Cox – "their moral leadership or cowardice, their resolution or incompetence. It is how history judges us"– he surely points this finger of accusation down to his own front bench as well as to our 'special relationship' friends in Washington.
Chris Clode
Wrexham
Orwellian
Alastair Campbell's piece ("This isn't a government. It's a moral vacuum", TNE #256) reminded me to re-read George Orwell's Inside the Whale (1940). Orwell refers to Cyril Connolly's book Enemies of Promise, which states: "Were I to deduce anything from my feelings on leaving Eton, it might be called The Theory of Permanent Adolescence. It is the theory that the experience undergone by boys at the great public schools are so intense as to dominate their lives and to arrest their development."
Orwell continues: "'Cultured' middle-class life has reached a depth of softness at which a public-school education – five years in a lukewarm bath of snobbery – can actually be looked back upon as an eventful period. It is the same pattern all the time; public school, university, a few trips abroad, then London. Hunger, hardship, solitude, exile, war, prison, persecution, manual labour – hardly even words."
That was written 80 years ago. Sadly, we are now under just such a régime.
David Beare
Montgomery
Holiday hell
Tom Tugendhat's piece in TNE omitted the militaristic bragadaccio of his Commons speech, as well as his demagogic side swipe at Joe Biden, but it is still riddled with non sequiturs and verbal tells.
On the subject of interventionism in the future he says "we have a choice to intervene in the name of liberal values or not". There is a third choice in play.
The UK via the MOD, the FO the RAF and the corporate arms sector have intervened to assist Saudi Arabia in arranging the obscene catastrophe that is the Yemen today. The US under Biden seems to want to withdraw from this collaboration in the Yemen context. Where does Tom Tugendhat stand on this issue?
He says regimes like China "are all too willing to support a free pass to repress their citizens". Where does he stand on amnesty for the perpetrators of the Bloody Sunday massacre and the Ballymurphy massacre as proposed by the prime minister and the NI secretary?
I do not know the answer but, again, somehow I suspect on the wrong side.
Robert O'Mahony
Endurance test
It is striking that in Mark Mardell's article ("The Brexit stress test Britain has yet to pass", TNE #256), although his interviewees at Airbus say that they are weathering Brexit, albeit with extra admin time and costs, none of them points to a single positive benefit to their company from the UK's having left the EU.
Brexit seems to have become, at best, something adverse that it's our duty to endure, rather than the golden opportunity which we were told it would be.
Nick Wray
Eyemouth
Tech? No
Bonnie Greer wrote about the use of cobalt mined in the DRC in smart phones ("First world problems we have not begun to grasp", TNE #256), but I am very concerned about the pressure put on those of us who do not have a smartphone to acquire one. I have a basic mobile, as I think one is essential in case I need to contact my car breakdown service.
I am alarmed that I might be required to download an app on a smart phone to prove my vaccination status, and I have recently received a letter from my breakdown service asking me to download an app so they can pinpoint my exact location if I need to call them out.
I don't have a smart phone, rarely use my mobile which I don't fully understand, and would not know how to use one if I had one. This is particularly serious for elderly drivers like myself with no children or other close relatives to assist us.
Can we please stop trying to force people to acquire technology which we don't understand, especially when this has serious resource implications for the planet?
David Smith
Huddersfield
Well worth Sikhing out
It was good to see in TNE #254 (which I am a bit late catching up on) that Will Self is not just a grumpy misanthrope with a great line in snarky comments, but can when he wants to produce a piece like his "Gravesend Sikhs"– an elegiac and empathetic piece which serves to make us stop and think about Britain's past, present, and future. Thanks to Will for that.
Rosalind Maudslay
• Have your say by emailing letters@theneweuropean.co.uk. Our deadline for letters is Monday at 9am for inclusion in Thursday's edition. Please be concise – letters over five paragraphs long may be edited before printing