No matter how much he earns in adulation or wealth, the enchantment of Lionel Messi is that he somehow retains the innocence of a child at play. A child in a man's game – until now.
I saw Messi's first senior goal at Camp Nou, on May Day 2005. Messi had been on the pitch less than two minutes when Ronaldinho chipped the ball onto the Argentine's left foot, which put it in the net. The goal was ruled offside, but the smiley Brazilian still had time to conjure up a replica of the pass, and Leo repeated the finish. This time it counted.
Now we have seen the last of Messi's 672 goals – and his 305 assists – in 778 first team games since Barcelona imported him from Argentina when he was just 13 years old. Barça paid for his keep, his education, and for injections to help cure his growth hormone deficiency. It was medicine that Messi's father Jorge could not afford on his wage as a metal factory worker in Rosario, Argentina.
Carles Rexach, the Barcelona director of football, signed the contract on a restaurant napkin, and watched Messi grow into his talent. Now at 1.7m and 72kg (5.57 ft, 11.3 stones) he has never been physically imposing, unlike his rival Cristiano Ronaldo. Yet the talent, and what Leo Messi does with it, are simply wonderful. 
A sports writer should, perhaps, not confess adulation for one player in a team game. With Messi, that is inescapable. I first saw him in the flesh at La Masia, the Barcelona academy. Before that there was video of him, the smallest figure in an Under 9's "friendship"  tournament in Chile. Even then, his team's attacking brio revolved around his balance, his hunger, his habit of lending the ball momentarily to others before moving uncannily into scoring positions.
Any presumption of innocence around any modern superstar is misguided. Messi (or perhaps rather his father) have known how to play the salary game. All the FC Barça players of the past two decades have some responsibility, as much as the directors, for the financial corrosion there.
The wage spiral to keep Messi and other academy graduates like Xavi, Iniesta and Pique sucked the financial lifeblood out of the club to which they owed everything.
I have known Josep Bartomeu throughout his tenure as Barcelona president. He was a basketball man, running his own worldwide industry, until the previous Barcelona president Sandro Rosell was jailed for money laundering including the transfer from Santos to Barcelona of Neymar.
Bartomeu stepped into the breach, and was out of his depth. He inherited players who were icons. Players who more than any official, represented the soul of the club.
Bartomeu felt trapped by the dilemma of when to let go stars who he believed earned the right to call time on their careers at Camp Nou. The phrase "no player is bigger than the club" became almost inverse.
Sooner or later, tears of separation were inevitable, even for Messi. No-one doubts that he loved the club, the climate, the environment in Catalonia. But nothing, especially in football, is forever.
The Messi family, father and son, are pawns now in a game being played out between the Qatari owners of PSG and the Abu Dhabi paymasters at Manchester City.
The Sheikh Wars pay above and beyond what even football is worth. They involve two oil states bidding to buy the Champions League crown. One will do it because Barcelona and Real Madrid, like the Italian football barons of years gone by, are no longer the richest on the continent.
City were able to pluck the football brains from Barça to replicate their success in Manchester. Real desperately led the discredited Super League breakaway, because they recognised they were no longer omnipotent in football.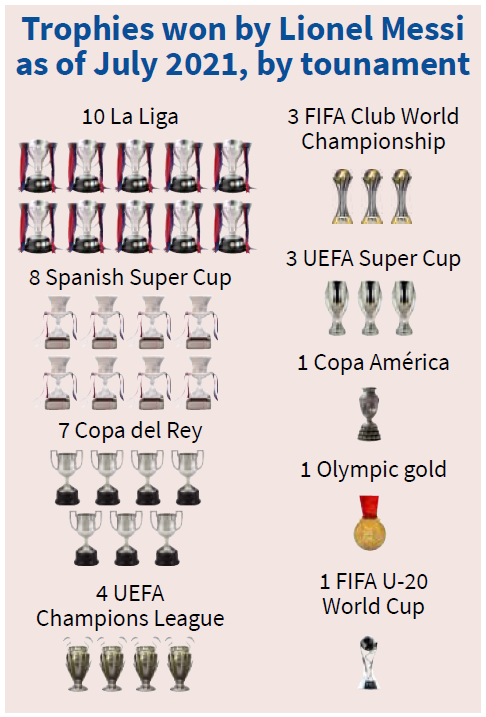 Paris will not, cannot, provide what Messi, his wife and three young Catalan children had in Barcelona. Paris is a sinecure on financial steroids.
PSG's current strategy is to import players whose contracts have expired elsewhere – AC Milan's Euro shootout hero goalkeeper Gianluigi Donnarumma, Liverpool's Georginio Wijnaldum, Real Madrid's Sergio Ramos and now Messi – because their clubs could no longer ask fees for their transfer. Acquiring the captains of Barça and Madrid in a single summer brings unprecedented Champions League experience. But Messi is 34, Ramos a year older and Angel Di Maria, the fourth attacker at the Parc des Princes is 33.
The drawback is age. PSG offers plenty of rest because the French Ligue 1 is not competitive like the major leagues of Europe. Neymar played only 17, 15 and 18 league games in the seasons after his move to Paris from Barcelona.
His lifestyle is very different to family man Messi, but the Neymars knew long before the Messis that there is a craving for the Champions League trophy in Paris.
The owner is assured that Messi, Kylian Mbappé and Neymar represent the best attacking force in history. Those with long memories would dispute that. 
Madrid had Di Stéfano, Gento and Puskas in the 1950s. Man Utd combined Best, Charlton and Law in the 1960s. Munich's Lewandowski and Thomas Müller, flanked by Ribéry and Robben was a dream machine.
And Cristiano Ronaldo, Bale and Benzema were irresistible until a few seasons ago. The Messi, Mbappé, Neymar trio could indeed win the trophy. But it is notable that Guardiola, who managed the peak of Messi, chose not to bid for what remains of the great player's prime before Messi rides off to that final rest home, North America's Major League Soccer.