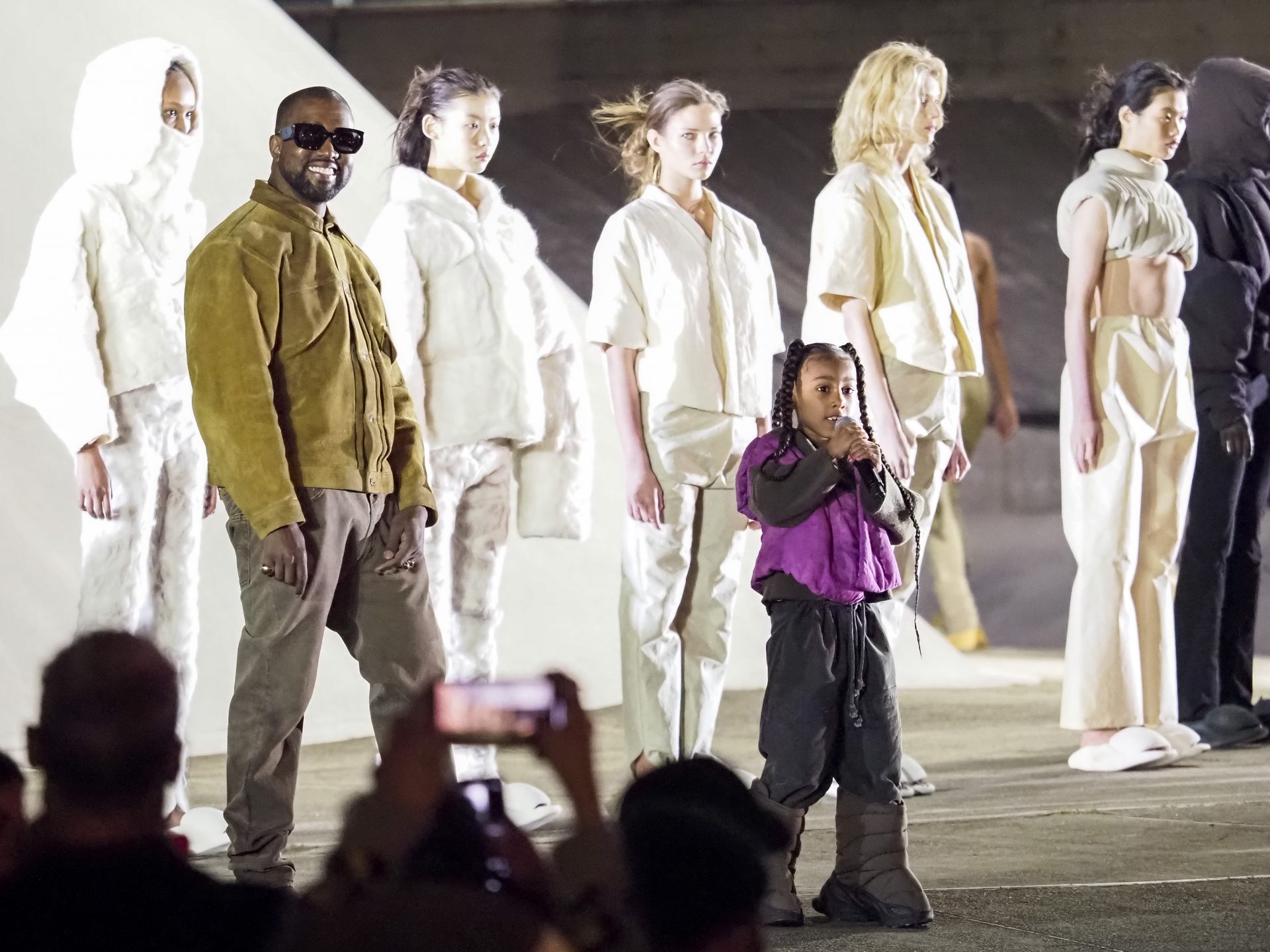 Three hundred Kanye West fans descended on an empty field in Auvers-Saint-Georges, about 50km south of Paris, convinced they were about to get a secret hearing of the rapper's new album.
West planned simultaneous listening parties across the world to mark the release of Donda, and geographical coordinates of the field, near a local film studio, were part of an advertising campaign that also included the coordinates for more conventional venues like Cardiff Castle, a hotel in Edinburgh and a pub in Shoreditch, London.
The Auvers-Saint-Georges event – intended to be attended only by few handpicked influencers – was called off as word spread, but that did not deter fans who believed the cancellation was just a ruse to put them off attending.
Sylvain Poche, owner of the film studio, said: "They drove an hour and a half, in the rain, for nothing. One person even made t-shirts. She thought she would sell them on the spot. This whole story is crazy."
---
Sonja Keller says she will continue to ride her cow, Melina, around the village of Ölbronn-Dürrn near Pforzheim in south-west Germany despite claims from animal rights activists that it is cruel.
Sonja rides her cow each morning, using a soft pillow as a saddle, and also rents Melina out to be used as an unconventional wedding carriage, or on hen nights. The animal is rewarded with her favourite foods, bread and fresh herbs.
Keller, 22, said that the sight of her on Melina draws widespread amazement – especially from a man who was so surprised to see them that he drive his car straight into a ditch.
---
Austrian punk singer Marco Pogo, who is a qualified doctor, vaccinated several fans before his band Turbobier's sold-out concert at the Vienna Arena.
Pogo, real name Dominik Wlazy, jabbed the first few through the gates as part of a plan to get more teens vaccinated. Vienna's city councillor for health, Peter Hacker said: "If I wasn't already vaccinated, I would have definitely got vaccinated by a rock 'n' roll doctor."
---
Police called to a suspected office burglary in the Carabanchel area of Madrid arrested a suspect after first freeing him from the ventilation shaft where he had been stuck for two days.
They were alerted by security staff who saw lights on in the block over the weekend, and spotted ceiling tiles that had been knocked to the floor. It's thought that the man tried to crawl through the ventilation shaft to reach other offices on the same floor but got wedged in.
The suspect, who was taken to hospital with dehydration, has now been charged with robbery by force.
---
A Swiss woman caused an accident that wrote off two cars because she was startled by a spider on her dashboard.
The 27-year-old said she lost control of her vehicle after spotting the arachnid while driving near Bazenheid. Her car veered into the central reservation, hit a guardrail and flipped over it, before colliding with a  54-year-old man driving a car coming the other way.
Neither was seriously injured, although the status of the spider's health is unknown.
---
Dusseldorf's first cheese kebab van had to close temporarily after its huge doner-style conical hunks of cheese were stolen in a burglary.
David and Charlett Tscheike have spent months on the project, including the recipe for a blend of lactose-free cheeses, made specially in Switzerland, that could be cooked on a vertical rotisserie and still retain its shape and flavour.
The couple have been shocked by the theft, in which a framed 20 euros note used to pay for the first cheese kebab they sold was also taken. David said: "What do they want with 40 kilos of cheese?" 
---
A kitten that stowed away in the engine compartment of a Renault parked in the Italian seaside resort of San Benedetto del Tronto was driven 600km by a family returning to Germany on their holiday.
The two-month-old animal spent around seven hours hidden before drivers of oncoming vehicles spotted it peeping out of a wheel arch and managed to alert the driver. It was so frightened it took mechanics at a garage near Ticino, Switzerland, nearly three hours to free it.
An animal rights charity that is trying to find a new home for the kitten, which has been christened Benedetto after its home town, says it probably climbed up into the car engine to escape the heat.