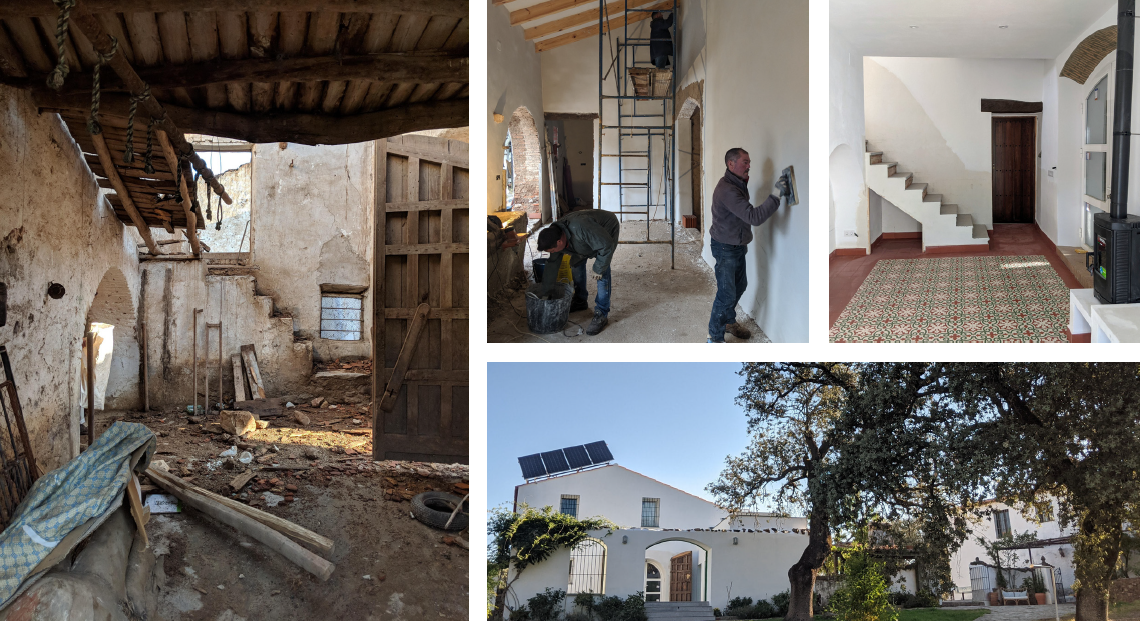 We'll always remember the first time we set foot inside the barn. The crumbling stone building was housing piglets. Swallows' nests clung to the door frames. It was a junkyard of agricultural implements: scythes and rakes, boxy Spanish stirrups, rope for curing hams.
Ducking into a windowless room, we realised it had once been someone's home. On the wall were framed pictures and a decaying embroidery sampler dated 1867.
Julia and I had just bought the place lock, stock and barrel alongside an already renovated farmhouse. Soon we were sifting through abandoned possessions and cleaning them up: an antique coffee grinder, an Arab lantern of coloured glass, a pottery bust of what looked like a 1920s starlet, with a broken nose.
The barn was in a very poor state, but it was large and thick-walled. We resolved that one day we would restore it.
At that point, we had no idea how to go about renovating it, or even what to use it for. Did we want a faithfully restored rustic building with low ceilings, tiny windows and an entrance for chickens, or a minimalist white box of the kind you see in style magazines?
There's a saying we often heard when we first started to look for a house in Spain: las cosas de palacio van despacio. Palace matters move slowly. We would have plenty of time to think about it.
The builder and architect who had renovated the farmhouse back in 2003 were still a team and up for the challenge. Manolo examined the walls. The sensible thing to do, he grinned, would be to knock the whole thing down and start again. Jesús shook his head. Local building regulations permitted only restoration and repair.
Between them, they spoke barely a word of English, and our Spanish was still basic. We had lengthy, open-air meetings with Jesús – "do you want to keep that wall, and what do you think of these door handles?" – after which we would have to go and have a lie down.
We wanted to stick as far as possible to the original layout of the barn. Tal cual – as it is. It had a cobbled porch with built-in mangers, heavy wooden doors with medieval bolts, and a rickety hayloft we could convert into an upstairs bedroom.
When we next returned to Spain work was under way. It was a shock. The old tiled roof had gone and sections of unsound wall had been demolished. Muddy rivulets of rain ran between the stones. It looked like Stalingrad.
We needed to get the roof back on, pronto. The original tiles were in the traditional style imported to Spain by the Moors – simple, curved terracotta once shaped on the thighs of artisans. We should go for those, right? Not according to Manolo.
The problem, he said, is that birds nest in the gaps at the edges. Then eagles divebomb, winkle out their prey and smash the tiles. He recommended tejas mixtas, which lock together without gaps. A little less traditional, but far more effective against eagles.
The renovation was slowly taking shape. When we were in Spain we would hear the team of builders – everyone called them los muchachos – arrive at sunrise and would take them coffee and tostada for breakfast. Sometimes they would bring us a home-made sausage.
They were experts at building in stone and brick. They seemed cheerfully able to pick up anything, no matter how heavy it might be. They were also handy at knocking things down.
Once, we asked if a window at the top of the stairs might be a good idea. A minute later Fran emerged with a sledgehammer and a grin. We had a window.
Gradually it dawned on us what we should use the barn for. How often do you get the chance to build a house to your own, or mostly your own, specification? The answer was obvious: we should live in it.
Then coronavirus hit, and los muchachos were forced to stay at home. Manolo was allowed to continue with someone from his bubble, so his brother Ramón joined the project and work went on.
We spent most of lockdown in London, but this remote-controlled, bi-lingual process has run more smoothly than most of the work we've ever had done in Britain. Every couple of weeks, Jesús would send us WhatsApp messages with photos of the progress, and always more questions. We asked them to redo something only once, when they filled a hole in the wall that we thought looked better the way it was – tal cual.
Last summer, when Covid restrictions were briefly lifted, we came to Spain to choose floor tiles. We had seen plenty of Spanish kitchens with patterned cement tiles, azulejos hidráulicos, and assumed that was the way to go. Jesús thought differently.
Cement tiles are all the rage in Islington, but there's little love for them in Extremadura. They remind people of a tough past, Jesús said, when floors had to be scrubbed on hands and knees. And if you spill olive oil on them, they'll be stained forever.
We remained unconvinced, so one scorching day Jesús took us on a tour of the region's tile outlets. The first two no longer stock encaustic tiles – no demand. At the third, the proprietor pulled out a selection of cement tiles, then told us he only keeps them to demonstrate to customers why porcelain tiles are better.
We gave in and chose three styles. Then Jesús surprised us again by ordering one set from each of the three warehouses we had visited. "That way, everyone eats," he said.
In that way, and so many others, our barn project has been an education. Everything happens for a reason, and practicality trumps tradition. We've learned terms in Spanish we didn't know in English. The riser on a staircase: la tabica. The hood for an extractor fan: la campana. Tiles staggered like brickwork: matajunta.
Last month, we arrived back in Spain to find our palacio all but finished. The result is neither a painstakingly authentic restoration nor a designer's white box. It is something in between: a 21st century barn conversion with mangers and modern tiles, plenty of Spanish craftsmanship and a few British touches.
Peter Barron is an author for Frommer's Spain. Follow his blog at adventuresinextremadura.com