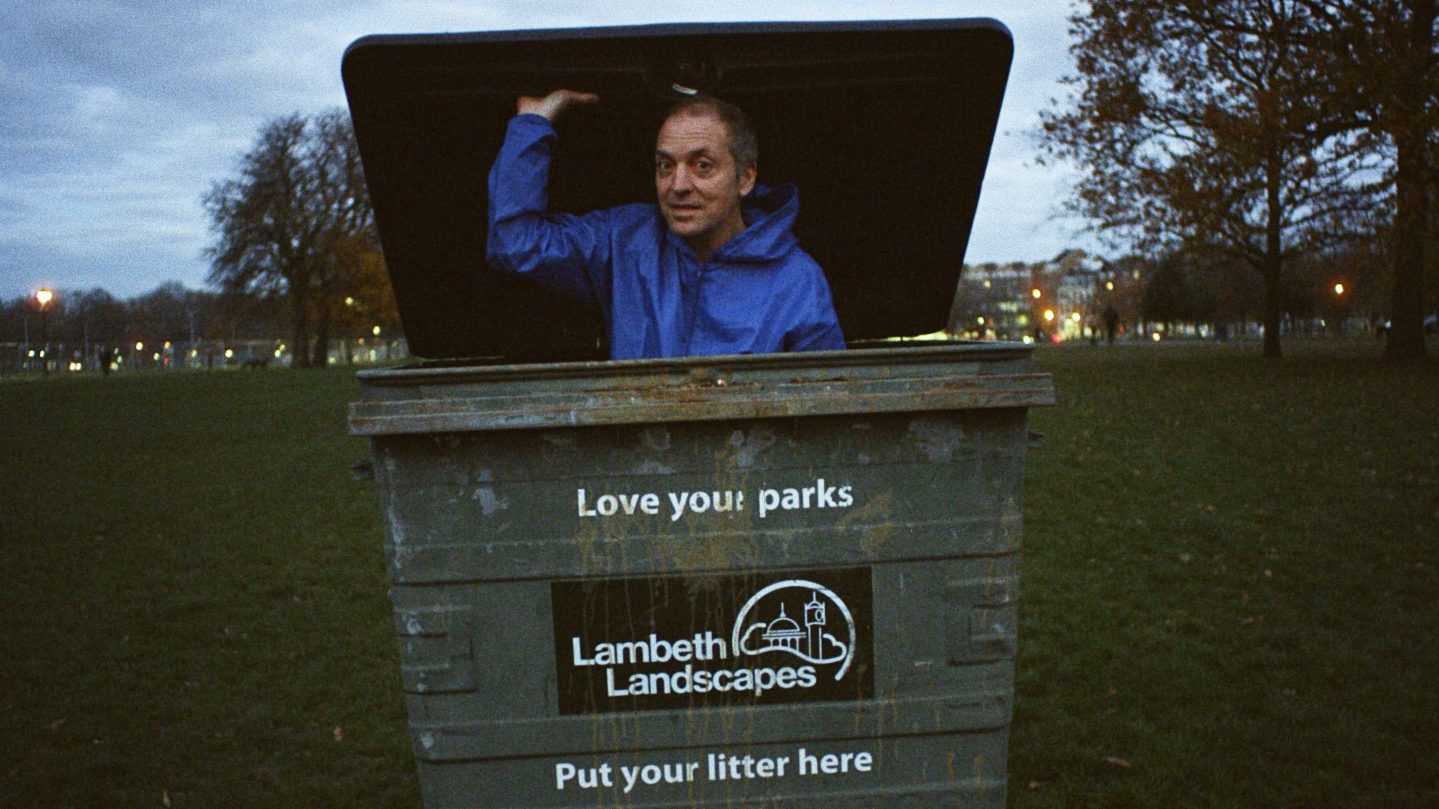 "At least an hour and half a day I wonder: Why are the English the way they are? Why are we French the way we are? It's a real mystery," a bewildered and dishevelled Mathieu Boogaerts muses as he sits on the London Overground.
Arthur Le Fol's short film, released earlier this year to coincide with the LP Boogaerts (en anglais), follows the singer-songwriter around London as he performs the album's songs – French chanson but with English lyrics – in the street, in parks, in cafes, in pubs and even in his neighbour's living room as he attempts to communicate with the citizens of his adoptive city and, perhaps, unravel this mystery.
Boogaerts says London was "another world" when he first arrived in 2016, and Boogaerts (en anglais) came out of his persistent sense of alienation, even five years later.
"Straight away, the fact that my French songs could not reach my neighbours was a real frustration," he says, "so I thought, let's write in English."
While 2008 album I Love You included four English songs, this more sustained attempt to communicate across languages and borders takes on a clear urgency in post-Brexit Britain, but this is no political album.
"I don't think I will ever write a political song," Boogaerts says. "The purpose of my songs in French or English is always to express feelings: jealousy, regret, desire, happiness, curiosity…"
Those feelings are charmingly explored in the album's quietly odd songs, the off-beat lyrics delivered in an almost whispered English which makes them feel extraordinarily intimate.
This slow-burning atmosphere is described by Boogaerts, not inaccurately, as "a Chet Baker energy", but in the place of cool we find wry absurdity as the self-effacing Boogaerts bluntly deals with personal frailties and the strange quirks of life.
Boogaerts' self-confessed linguistic limitations serve that bluntness. "This record is written with a naive English because my English is not so good," he says, "I had about one hundred fewer words to work with."
The result is that his characteristic musical minimalism – "I like the idea of ​​doing a lot with a little," he has said in the past – is mirrored by the absolute simplicity of the lyrics on this album.
The laconic opener, Annie, straddles English emotional restraint and a stereotypically Gallic nonchalance: "Annie's not my lover/ But I'm in love with her/ I don't know what else to say."
While that song utilises a faint bossa nova beat, Am I Crazy, which is one long musing on which is Boogaerts' favourite colour, shuffles along on a light reggae rhythm.
You Like Me is a song of unvarnished self-criticism ("You like me funny/ 'That's why I love you, fool'/ Funny, funny/ I am not at all").
The whimsical Once Again has timely imagery of planes, trains and roads and seizing the moment ("Don't be late/ It won't wait/ It won't wait for you/ Just get, get, get into it").
The deeply downbeat feel of Guy of Steel belies its defiant lyric, while I Belong is a break-up song rendered in literary metaphors of trees and roses. The low-key funk of The Price, with occasional stabbing synths, is the nearest thing this stripped-down album has to a foot-tapper.
While this is Boogaerts' first attempt to court an Anglophone audience, he is no newcomer. Boogaerts (en anglais) is his eighth album, and comes 25 years after his debut, Super.
Having once been in a teenage band with future French pop icon Matthieu Chedid, he became known alongside Chedid, as well as others like the Gainsbourg-esque Benjamin Biolay and his Tot ou Tard labelmate Vincent Delerm, as part of the 1990s nouvelle chanson scene, which took inspiration from the classic chanson artists of the mid-century but brought more contemporary influences to bear too.
In Boogaerts' case, his eclectic, idiosyncratic sound incorporated folk, electronica and Afro-beat, the result of time spent living in Nairobi. He toured with Dutch legend Dick Annegarn, wrote for Vanessa Paradis and opened for veteran French acts Alain Souchon and Francis Cabrel.
But Boogaerts is completely anonymous on London's streets in Le Fol's film, where he embodies the outsider.
As he struggles to cart a huge PA around London on an unwieldy trolley, it is symbolic of the struggle to negotiate the city socially too, and as his performances fail to even raise an eyebrow from passers-by, the crippling alienation of the city is clear.
But despite this, Boogaerts' conclusion on British society is a cheering one: "It seems to be a society which works, people seem to respect each other."
Boogaerts (en anglais) is not just an attempt to communicate with the natives, but a reflection of the the experience of just one of the three million EU citizens living in Britain and, in that way, perhaps reflects us back at ourselves.
Chanson in Britain in five songs
Édith Piaf, Milord (1960)
Despite Non, je ne regrette rien (1960) and La Vie en rose (1947) being her signature songs, Milord was Piaf's only UK chart hit, reaching No. 24 in 1960.
Charles Trenet, La Mer (1960)
The prolific Trenet's song, reworked into an English-language version by American songwriter Jack Lawrence, was a Top 10 hit for Bobby Darin in 1960, and became a standard.
Jacques Brel, Le Moribond (1961)
Terry Jacks' Seasons in the Sun, a saccharine recasting by Rod McKuen of Jacques Brel's bitter Le Moribond, was No.1 for four consecutive weeks in April 1974. Jacks and McKuen's version of Brel's Ne me quitte pas was a No.8 hit shortly after.
Serge Gainsbourg and Jane Birkin, Je t'aime… moi non plus (1969)
The infamous record seemed the culmination of the permissive society when it hit No.2 in the autumn of 1969. Label Fontana withdrew it over the scandal, but it quickly reached No.1 on its re-release on another label.
Charles Aznavour, She (1974)
Aznavour's poetic song was a No.1 for four weeks in mid-1974. The French version, Tous les visages de l'amour, used the same imagery.