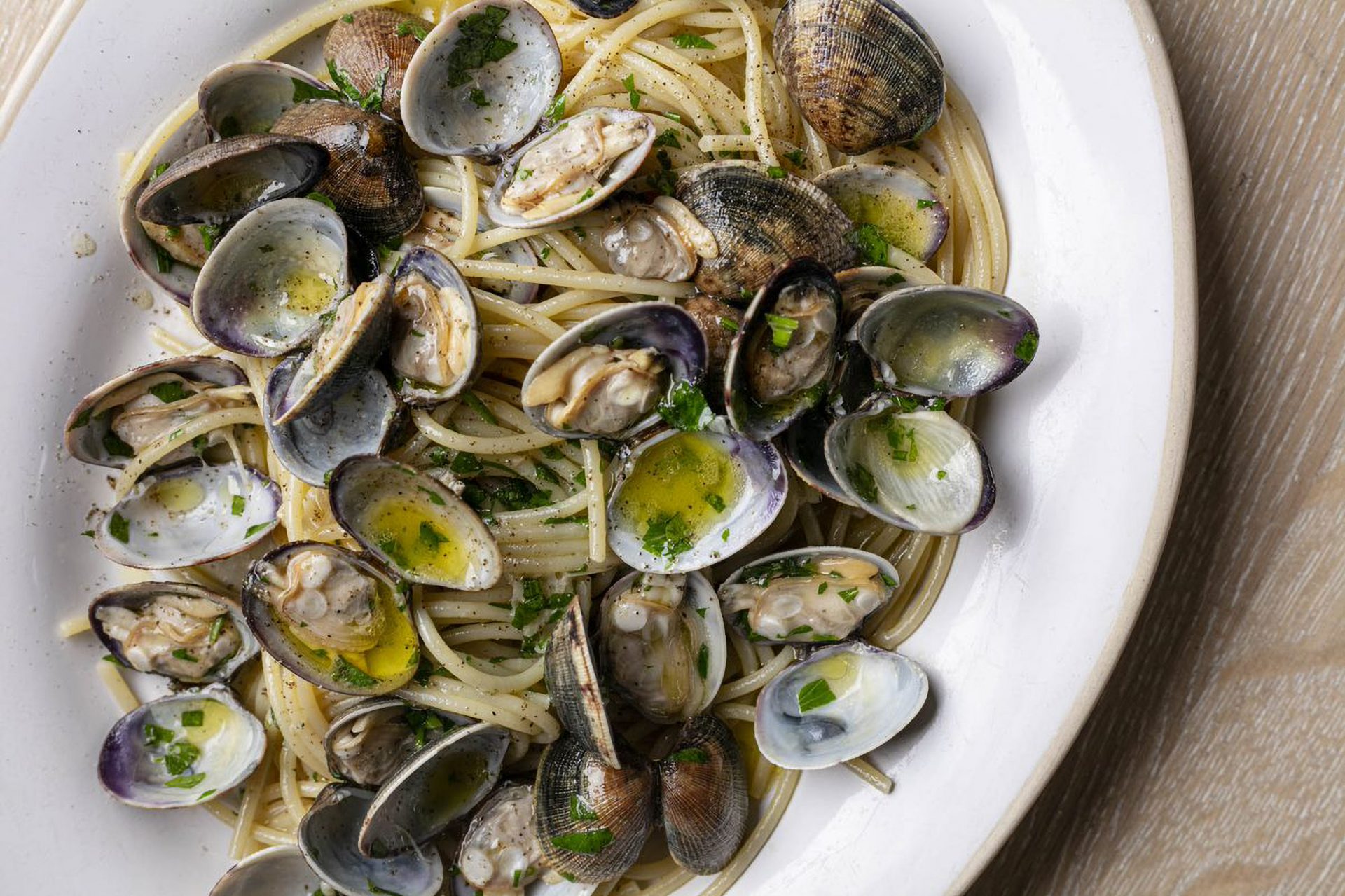 What would we all do for a bit of sunshine? Better yet, a lot of sunshine, preferably on the Amalfi coast in Italy. There, as fishing boats bob on the turquoise sea and a handsome waiter called Ciro hands you a glass of gentle Avellino, spaghetti alle vongole is the perfect lunch.
The dish, popular all over Italy but especially in the southern region of Campania, is synonymous with Italian cuisine. For those of us unfortunate enough not to be jetting off to Naples any time soon, a bowl of vongole or two might help in the meantime. It is a simple dish and one which we should be making more of, not least because we have excellently juicy clams in British waters, too often ignored in lieu of lasagne and bolognese.
In the UK there is probably none better to guide us through the dish than Francesco Mazzei, chef patron of London restaurants Sartoria, Radici, and Fiume. More recently, he was serving pressed langoustines and risotto on The Dorchester hotel rooftop, reminding us all that if you can't make it over to Italy, it's time to bring Italy to pretty much anywhere else besides.
The recipe (serves 4 as a starter, 2 as a main)
Ingredients:
500g clams
300g spaghetti
1 clove of garlic, thinly sliced
20g fresh parsley, roughly chopped
75ml Vermentino white wine
50ml extra virgin olive oil
Coarse salt for seasoning
Method:
In a pan, sweat the garlic in half the olive oil until golden brown. Then add the clams and white wine to the pan, cover with a lid and cook for a few minutes.
Bring a pot of water to the boil, season with the salt and cook the spaghetti for half the time suggested on the packet.
Meanwhile, once all the clams have opened, remove the clams from the pan to prevent them from overcooking or becoming dry and chewy.
Keeping half the pasta water, drain the spaghetti and transfer into the pan with the other ingredients. Cook until the spaghetti is ready, adding the pasta water little by little (the starch in it will help make a creamier sauce)
One minute before the pasta is ready, add the clams, parsley and the remaining olive oil and toss together.