On a recent trip to France, an acquaintance asked us if we knew of a new club in London. As it happens, we didn't know Oswald's, but then it isn't a place for people like us. It is one of those places in Mayfair that looks like a private house, has no sign outside, no social media and no website to speak of. Discreet membership inquiries only, presumably from people like them.
Oswald's is owned by Robin Birley (Eton), son of Mark Birley (Eton) and half-brother of Zac Goldsmith (Eton), son of James Goldsmith (Eton). Zac is also a good friend OF Boris Johnson (Eton) who recently went to Oswald's on a "date night" in the middle of the Partygate scandal with his wife, Carrie, who went to Godolphin and Latymer school (to throw some diversity into the mix).
Prince William (Eton) slips into Oswald's discreetly sometimes. If only the infinitely more progressive Archbishop of Canterbury (Eton) were to drop by for a drink, which is unlikely I admit, the old school tie trinity would be complete. All the pillars of the establishment – prime minister, future king, head of the Church of England – hanging out together in private, a million miles away from the "red wall" voters our establishment political leaders claim to represent.
---
What has happened to this country? We are going backwards. The proportion of children in private schools has been declining in recent years. If you strip out the offspring of Russian oligarchs and other overseas families, the figure for England is around 6%. Yet fan out through the rest of government and the trend is moving in the other direction. The proportion of privately educated ministers in Boris Johnson's cabinet is 64%, twice that of state school-educated Theresa May's, which was 30%. Even David Cameron (Eton) managed to do better. Only half his cabinet went to what should rightly be called fee-charging schools.
The business secretary, Kwasi Kwarteng, and Brexit "opportunities" minister Jacob Rees-Mogg went to Eton. The chancellor of the exchequer, Rishi Sunak, often portrayed as from a lowlier background because his father was a doctor, went to Winchester College. Education secretary Nadhim Zahawi to King's College school, Wimbledon, Michael Gove to Robert Gordon's College, Aberdeen, the Scottish secretary to Glenalmond College, the defence secretary to Millfield. And so it goes on.
More than two-thirds of senior judges and more than half of all diplomats, members of the Lords, leading editors, broadcasters and columnists went to private schools. The journalist Dominic Lawson, Johnson propagandist (Lord) Charles Moore, BBC diplomatic editor James Landale, and recently deposed Daily Mail editor Geordie Greig, also went to Eton. Posh boys reign supreme in a society where two years ago, eight elite schools (six private and two state) sent more pupils to Oxford and Cambridge than almost 3,000 other UK state schools.
It is not hard to work out why this is. For all the boasts of bursaries and places for children from disadvantaged backgrounds, private schools overwhelmingly take in children from better-off homes. They then have approximately three times as much money spent on them as state-school pupils. The UK median household disposable income is around £30,000 a year. Average secondary day-school fees are £15,000, boarding school fees £35,000 and funding per pupil in the state sector around £5,000 a year.
And money matters. It provides smaller class sizes and the chance to layer ever more opportunities, enrichment, and confidence on the already privileged. Whether it is through intensive university preparation, outlandish uniforms, networks, the use of absurd language like spaffing and girly swot, or the sense that they are grooming leaders, the system is designed to ensure that pupils emerge feeling better than, and different from, everyone else.
Some of the most disturbing testimony that emerged on the Everyone's Invited website following the murder of Sarah Everard was from girls in private schools that tolerated a chauvinistic culture in which boys felt they were superior and entitled – in this case to women's bodies.
It wasn't surprising to see how private schools manipulated the teacher-assessed grades that replaced exams during the pandemic to emerge with far better results than before. Even the Daily Mail screamed that they had "gamed Covid to DOUBLE their top grades". Of course they did. This is the service that people like Paul Dacre, editor-in-chief of the Daily Mail, whose sons went to Eton, pay for. To ensure their children come out on top.
Selective entrance exams mean that private schools will never be "open" to very disadvantaged children, who start falling behind their better-off peers in primary school. You can usually stop a private school head in their tracks by asking the percentage of pupils eligible for free school meals in their school. The answer won't be forthcoming because there aren't enough to make it worth counting.
Instead, they will deflect the conversation on to bursaries, but only around 1% of private-school pupils receive full bursaries and as the Good Schools Guide points out, "the family income threshold for some help can sometimes be surprisingly high". The St Paul's school website is currently offering support to families with a household income of less than £120,000 whose children pass the entrance exam. Uncoached children of the working poor need not apply.
The English education system evolved from the mid-19th century onwards in a way that ensured a steep hierarchy of schools was always baked in. At every point when it might have been possible to take a more radical turn and tackle their supremacy, the establishment won the day and ensured they sailed on in luxurious splendour while new and different types of institution were created to cater for everyone else.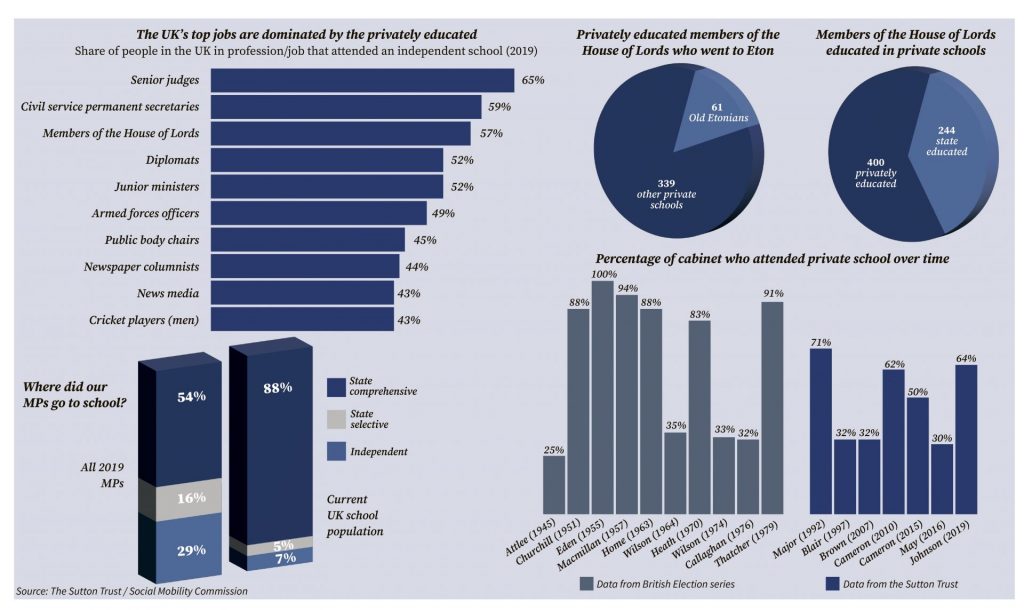 Which was obvious if you think about it. Only 10 out of 55 prime ministers have been to state schools, and Eton College has produced three times as many as the Labour party in its entire history. These alumni were never going to knock down the ladder that helped them sail effortlessly to the top. Even the totemic government of Clem Attlee (Haileybury) baulked at the opportunity for radical change.
By the time Tony Blair, the first privately educated prime minister since the mid-1960s (but also the first PM to send his children to state school) was elected in 1997, the Thatcherite doctrine of parent choice was so embedded, he felt voters would think the Labour party mad if it tried to prevent aspirant parents from doing what they felt was "best for their child".
Labour conference during Jeremy Corbyn's leadership voted to abolish private schools and reintegrate their assets into the state sector. This prompted a flurry of legal opinions about how abolition would conflict with European human rights legislation. But it has been done elsewhere. In the early 1970s, Finland recognised its education system was not up to the challenge of competing in the modern world. Its government took the radical step of making it illegal to pay for education and introducing a national comprehensive system.
The decision proved to be transformative. International comparisons are notoriously difficult since in many countries parents have no choice but to pay for education. Even France and Germany have a higher percentage of children in fee-paying schools than the UK, but these tend to be either religious or offering an alternative type of education. But Finland has dominated international education league tables ever since and is one of a few countries that produce high standards and equity – narrower gaps between better- and worse-off children. This is the gold standard set by the Organisation for Economic Cooperation and Development, whose research also shows that if children are divided into different institutions by ability and social class, that aim is much harder to achieve.
If we were starting from scratch, we wouldn't create schools that cream off an elite few whose parents can afford to buy their children a competitive advantage in life. Few modern politicians would put their name to that concept, although don't rule out Jacob Rees-Mogg, who put up a vigorous defence of private education when I debated with him some years ago.
But how to dismantle it? The personal is political when it comes to education. Any politician who had either benefited from a private school education, or ensured their children did, would face immediate cries of hypocrisy. Even those without baggage may view abolition as a huge time and energy trap at a time when the state system is facing so many challenges.
But the tired old argument that we just need to make the state system as good is sounding increasingly absurd. The gap in resources has become too great and we have too many chilling examples of what sort of "leaders" these (mostly men) turn out to be.
The old Etonians have given us austerity, Brexit, one of the highest Covid death rates in the world, billions of pounds in dodgy pandemic contracts, party funding from Russian oligarchs (brokered by another old Etonian, Ben Elliot) and the grotesque spectacle of a prime minister promising favours in return for £840-a-roll wallpaper and attending serial parties while the rest of the country was in lockdown. This last image, along with the unsavoury activities of Prince Andrew (Gordonstoun) were, until the outbreak of war in Ukraine, how we were seen abroad.
Meanwhile, Gove's coalition government "reforms" were so unsuccessful that he is now charged with the task of "levelling up" the inequalities he helped to create. Until around 2015 the achievement gaps among children at 16 were starting to narrow. They are now widening again. The last 10 years have been an exercise in levelling down.
I recently interviewed a headteacher in one of the most marginal red wall seats in the north-east. He was blunt: "If we want to level up, we need honesty about one thing. We need to fund state schools at the same level as private schools. I am not against private schools but their termly fees are the equivalent of my annual per-pupil funding. This is unfair."
In a Rolls-Royce state-education system, the poorest pupils at the very diverse inner-city schools my own children attended should have everything that's available at Eton. Having spent a day at that school (they were charming of course) I can vouch for how much that is; the drawing schools, the three theatre spaces, the sporting opportunities on 40 rugby and football pitches, a 2km rowing lake, 19 cricket pitches and 50 tennis courts. How can we compete?
---
Then there is university entrance. Despite over 94% of UK students attending state schools, 12 of the most elite universities and conservatoires last year took fewer than 70% of their undergraduates from the state sector. Oxford (68%) and Cambridge (70%) usually get singled out for this, but Durham, Edinburgh, UCL, Exeter and Imperial College are worse offenders.
Why not make university places available in line with the percentages attending state and private schools? Mansfield College, Oxford, has made this its mission and now takes around 90% of its undergraduates from non-selective state schools, so it can be done. There would be the usual cries of social engineering, but what could be a better example of social engineering than Eton?
Finally, there is the charitable status that offers tax breaks not even available to parts of the state system. Schools offering a gold-plated education are not charities and should have their tax advantages removed. Robert Halfon (Highgate), Tory chair of the education select committee, has recognised this, as has Sir Keir Starmer, which is significant, since the best chance for reform of anything to do with private schools now comes from Labour, whose shadow cabinet is overwhelmingly state-educated, so can't be accused of knocking down its own ladder to success.
None of these is as radical as outright abolition. But the past decade has given us a relentless insight into this very sophisticated form of social apartheid that private schools represent, and it has been jarring for many people. There must be sanctions on this type of privilege before another generation of that tiny but powerful elite comes along to do even more damage to the country.
Fiona Millar is a journalist and campaigner on education issues whose books include The Best for My Child: Did the schools market deliver?