Norway is traditionally the home of nul points in Eurovision but, as the movie awards season gets into full swing, there's a Norwegian film high up there on the leaderboard, with a raft of nominations, including two at the Oscars later this month.
The film is The Worst Person in the World, a romantic comedy-drama, directed by the previously sternly arthouse director Joachim Trier and starring everybody's new favourite European actress, Renate Reinsve who, in her first major film acting role, won Best Actress at Cannes last July and lost to Joanna Scanlan in the Best Actress category at the Baftas.
This cool, funny, delightful film is the one everybody's talking about with surprising affection and warmth. Oslo is on the movie map this year and, probably for the first time in its life, hip.
"We're always feeling inferior to Sweden and Denmark if we're honest," suggests the film's producer, Thomas Robsahm, who is also currently touring with a film he has directed, a-ha: the movie, a documentary (out May 26) about Norway's most famous band and one of the biggest pop hits of all time, Take On Me. "But maybe this is our time – they've had their big moments recently with Scandi noir and Lars von Trier and all that. Now we can tell the world, with confidence, Norway is just as cool."
---
Maybe he would say that. He's got movies to sell, after all. But this one has surpassed all expectations, at home and abroad. Robsahm has produced this director, a long-standing Cannes competitor favourite, for his last five movies – two of them, Reprise and Oslo, August 31st, part of a loosely conceived Oslo Trilogy of which Worst Person now completes the set – and he says takings for this latest film have already outstripped all Trier's previous films added together. "And people really seem to like it," he adds, with a touch of surprise, given the sometimes grittier subject matter – drug
addiction, supernatural horror, suicide – of Trier's previous works.
Much of the commercially successful shift has been due to the breakout arrival of new star Reinsve who plays the lead character, Julie, a woman on the cusp of her 30th birthday but who hasn't yet settled on a career – she's a medical student, then a photographer, then a blogger, then she's got a job in a bookstore – or a life partner, but who enjoys her young freedoms despite the societal and familial pressures exerted in a traditionally rigid milieu such as Oslo.
"Since she won at Cannes, the focus has been all about our new Norwegian star," says Robsahm. "Renate has taken the pressure of this, being an auteur film, but now it's all about this character and this actress and everyone wants more of her, more of the character, and they're talking about sequels and all that stuff that you never envisage before you start on a film like this."
The Worst Person in the World certainly has an unusual charm and lightness of touch compared to Trier's other work. It boasts several stand-out scenes, which come along as the story unfolds in 12 chapters (the film's French title is Julie (en 12 Chapitres) and stick in the memory long after. There's one sexy but very natural scene at a party, which Julie crashes and where she ends up flirting with a man, questioning if they're both being unfaithful by doing so; another memorable one is the mushroom trip, which I've never seen so warmly and amusingly rendered, where the floor is swallowing her up as she starts to hallucinate; perhaps best of all is the film's signature flourish where the whole city stands still, frozen in time, coffee mid-pour, while Julie makes her cross-town dash to steal a kiss, a beautiful example of solecism on screen, asking us to hold our collective breath with the character and with the filmmaker, to see if all of us can pull off this suspension of disbelief and make it work (no spoiler, it's a triumph for everyone… well done!)
I asked Renate about this scene back in Cannes. "We did it old school," she laughs. "There were no special effects at all, just people standing still, and we blocked off half the city and by the end, people were just turning up to watch what was going on. Everyone was supposed to stand still and they had these special blocks in their shoes so they could freeze mid-walk. But it was just after the first lockdown, so everyone wanted to be out in the streets on a nice day, curious to watch this crazy woman running down the street. We had to cut so many times because the extras just couldn't help themselves looking at me. They had no idea who I was, of course."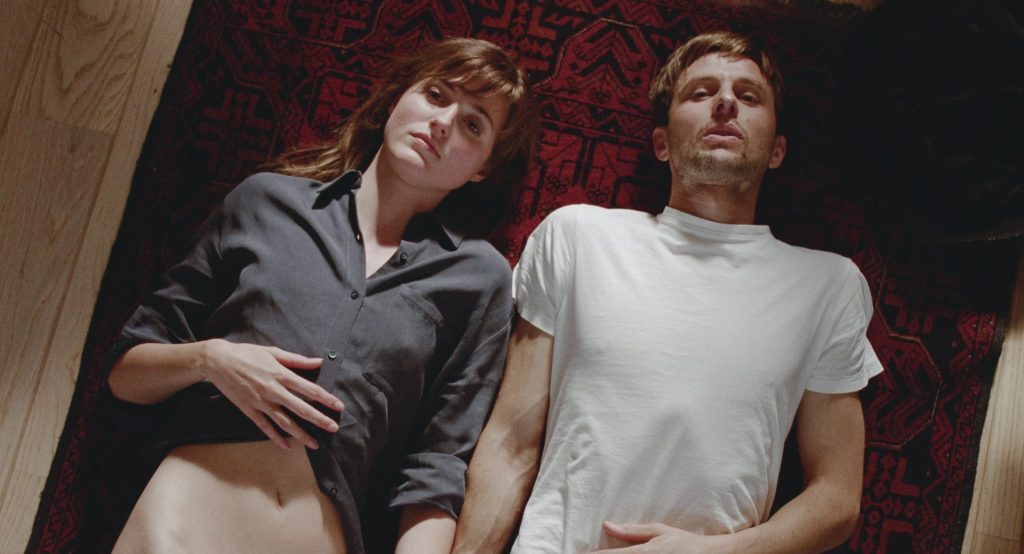 That would all change now. Never mind being the worst person in the world, she's the most famous person in Norway, maybe behind Morten Harket of a-ha or footballers Haaland and Odegaard. How does that feel for her, someone who has admitted she was about to give up acting for good before she got this role of a lifetime?
"I was going to give up trying movie acting," she stresses. "And just go back to deep, depressing theatre and tragedy, which is where I'm very comfortable. But now I'm in love with the movies after this, it was such a joy to shoot and the reaction has been overwhelming. I literally puked the day after the Cannes premiere because I didn't know what to do, everyone saying 'oh, a star is born' and that kind of thing. I felt it wasn't me they were talking about."
Is she proud to represent a new kind of Norway, then, a new face of hip Oslonians? Or Oslovians? Or Oslo-ites? No one knows the right adjective
apparently. "I just say I'm from Oslo," she suggests with a shrug. "But yes, we
deliberately used a warmer film stock for this and shot in summer when we
could and Oslo is just wonderful in summer – I never take a vacation in summer because why would you want to be anywhere else? There's outdoor
events, concerts, late nights, book launches, parties, it's incredible really. We've been doing the gloom for long enough, so it's time for us to share a new era of sunny Nordic cinema."
---
There's a certain irony in that, of course. The Worst Person in the World is not your Hollywood romcom or even a Richard Curtis one, although it does borrow tropes and ideas from all of those and plays with them, but there's definitely sadness and tragedy involved, even if there's a concession to a slightly happier ending. And she's keen to stress that the poster girl for that hip, chaotic, spontaneous Oslo is Julie, her character, not Renate herself, which is fair enough. I tell her Julie, and the film, remind me of Annie Hall in its episodic nature, funny interludes and not entirely successful romances.
"Joachim made me watch that film," she reveals. "And I based a lot of the character's charm on what Diane Keaton does in that movie, a sense of
individual style and a way of being. I didn't want to be too elegant but
always a bit self-deprecating, to the point of it stopping you, holding you back. That's a very Oslo thing, too, to always be a bit down on yourself, so Julie has to have that self-loathing and self-doubt, even while she's being this free spirit."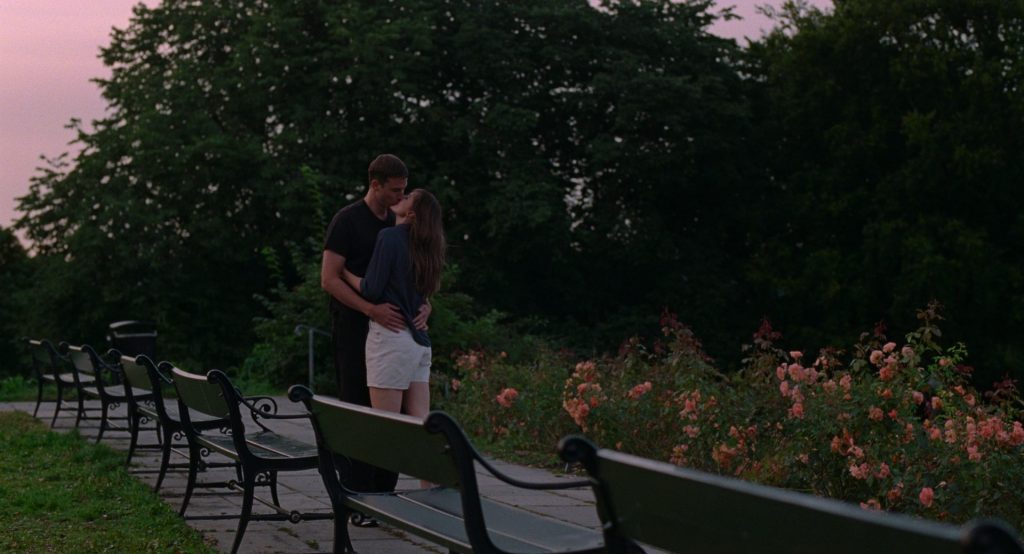 Part of the film's charm are the new neighbourhoods it features, such as
Grünerløkka, where artists and designers and micro-breweries have taken over old industrial quarters, and the Barcode, a modern rebuild that has had its share of controversy and aesthetic haters in Oslo, but which one character here, when asked to confess to something shameful, whispers that he really likes Barcode. "That gets a big laugh with Norwegian audiences," Robsahm tells me.
Another joy is an eclectic soundtrack, all very tastefully curated by the director, Joachim Trier, himself, a music obsessive and sometime DJ, and including French electronics from Chassol, British jazz funk from Cymande, some Harry Nilsson, Christopher Cross, Billie Holiday, Erik Satie and a lovely version of Waters of March by Art Garfunkel.
For now, Oslo is getting ready for Oscar parties, preparing to cheer the film on in two categories, International Film and, remarkably, in Best Original Screenplay, chalking up what are only the nation's sixth and seventh ever Oscar nominations. They've only won twice, for the Kon-Tiki documentary by Thor Heyerdahl in 1951, and for The Danish Poet as Best Animated Short in 2007.
Robsahm will be out there, as will Renate.
"Oh yes," he says. "Joachim is already DJ-ing at the LA party, so we're very excited. This kind of thing doesn't happen very often, especially not for Norway, so we must enjoy it and we must make the most of it and be positive." He offers a wry Norwegian grin: "And then we show them that we
aren't the worst people in the world, after all.