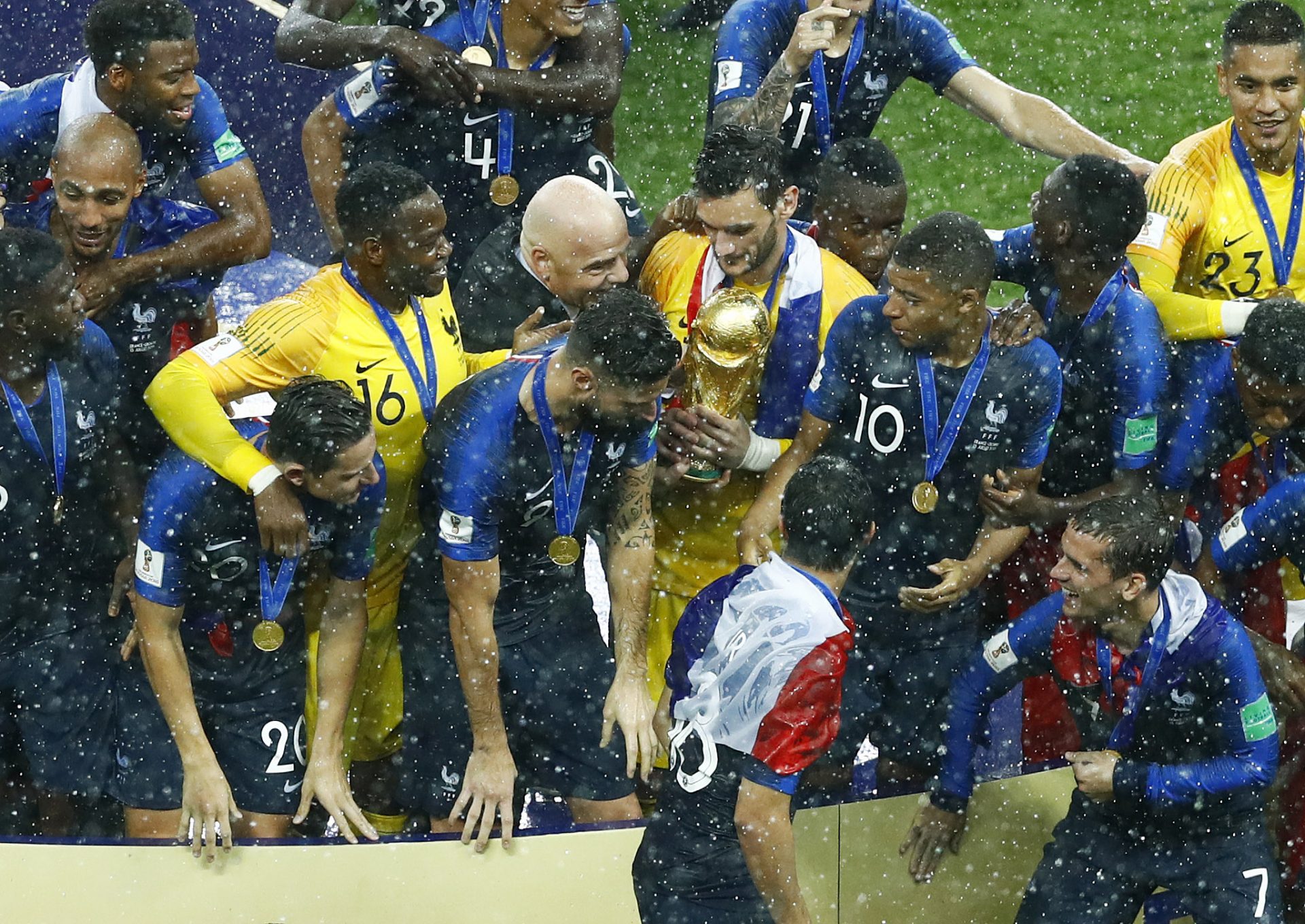 Arsène Wenger was always his own man, generally on the side of the angels throughout his 34 years managing Nancy and Monaco in France, then Nagoya Grampus Eight in Japan, finally Arsenal in north London.
He was an evangelist for purer football. There was no better pulpit than the Arsenal media room on Friday mornings, where Le Professeur preached his pure football over two decades that changed the Premier League.
Some of us, a minority perhaps, still imagine that Arsenal would be more entertaining and more competitive today had Wenger stayed. He will turn 72 next month, but managers do not run. Their task is to draw out the best in players — and where Wenger was concerned, footballing artistes.
But Wenger is now the mouthpiece for an altogether more questionable football development, the FIFA plan to play the World Cup finals every two years.
Wenger waited for a creative role after Arsenal but when none came he was sucked into the empire-building of Gianni Infantino, the Swiss-Italian opportunist who jumped from being UEFA general secretary to FIFA president after the world governing body fell into meltdown because of internal corruption five years ago.
Infantino grasped from the start where the power lies. It is about the money more than the sport. The power of the presidency enabled the Brazilian businessman Joao Havelange to rule from 1974 to 1998. And after Havelange his Swiss enabler, Sepp Blatter, knew the route to power lay in the one-member, one-vote structure of the 211 football associations across the globe.
Promise many of them money, and you have their vote. The wealth in FIFA derives primarily from a single source, the World Cup. And of course from the commercial spin-off through television and sponsorship. Havelange took over FIFA when it was penniless and turned it into a great cash cow that dispensed some of its millions — billions — to the national associations in exchange for cash for votes towards perpetuating his own presidency.
That much was legal. The office of the president doled out money in exchange for unquestioning loyalty from national associations which had neither the means to raise that kind of cash, and often had no accountability for where it ended up.
By the time FIFA's financial irregularities unravelled, Havelange was nearing his centenary and too frail to face prosecution. Infantino was never among the former FIFA scoundrels being hauled through the Swiss and American courts. But he follows the Havelange-Blatter policy of doling out ever-larger handouts from ever-larger numbers of games.
Africa has 54 member associations. Fifty four votes go a long way towards re-electing the paymaster president. Their FAs are hungry for payouts, and for places at the finals.
Infantino enlarges the tournament exponentially. By 2026, his World Cup finals will have 48 nations. But Infantino has expansionist plans beyond that. He seeks to challenge Europe's Champions League through an expansion of the FIFA Club World Cup.
He tried to persuade clubs three years ago to sign up for a global tournament backed by $25 billion from SoftBank in Japan, and by a consortium of Chinese, Saudi Arabian, US and United Arab Emirates backers. That, for the time being, is stalled.
Instead, Infantino is pushing his biennial World Cup and Wenger is selling the idea worldwide, most recently in L'Equipe, Bild and in an interview with Alastair Campbell for this week's The New European.
Post Arsenal, Wenger has two roles. One is as a pundit for the Qatari broadcaster beIN Sport. It is chaired by Nasser Al-Khelaifi who runs Paris Saint-Germain and coincidentally has a seat on the board of FIFA's Club World Cup.
Wenger's other paymaster is FIFA. Few would baulk at him guiding the FIFA technical group and advising on football-related matters. But pushing the biennial World Cup dilutes the concept created by his French forefathers in 1930 to the point of destruction.
This has been the rhythm of global football for longer than any of us have been alive. It defines the careers of great players.
Wenger claims "we have to anticipate the future". He tours the world, and invites Brazil's Ronaldo Fenomeno and Kaka, Denmark's Peter Schmeichel, England's John Terry and Michael Owen to Qatar to promote the biennial idea. Some become converts to the script.
Wenger claims that by compressing all qualifying games to the entire month of October (or if need be to two qualifying windows in October and March) players will travel less and be available to their clubs more continuously.
The former Arsenal manager says that World Cup qualifying could be compressed into six games after which the players could return to the clubs who pay their salaries. They would then rest and recuperate for a 25-day break in the summer.
Wenger, the idealist, no doubt thinks player fatigue from overplaying and overflying can be legislated away. But clubs would doubtless soon use any gap in the calendar to recoup millions from glorified training games in America and Asia as they did before Covid.
Not everyone is convinced. Jürgen Klopp cuts straight to the point. "It is all about money," he says. Pep Guardiola, on the contrary, thinks a biennial World Cup would be as good as Wenger says. Guardiola, however, has his eyes on national team management after his time at Man City. And he is partial to Brazil or the Gulf.
The European and South American confederations oppose the concept. They are the only two continents that have won a World Cup, so why would they vote against the status quo?
The two-year time frame was proposed by Saudi Arabia and seconded by Morocco, after which 166 associations voted in favour of a study into the project.
But while Wenger burns the air miles promoting it, one wonders if we are hearing his own voice, the voice of reason. Or the voice of his paymasters at FIFA HQ in Zurich.